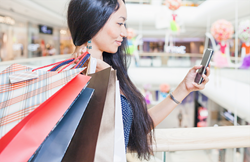 Concord, MA (PRWEB) September 09, 2016
Who: Hear from ShopAdvisor's CTO, Jeremy Daly, and Director of Sales and Customer Success, Giuseppe Calabrese, on how to make your mobile strategy for the holidays stand out.
What: The competition for shoppers' attention is particularly fierce during the holiday season. Shoppers are inundated with advertisements and promotions on their phones, but more often than not, these campaigns fail to engage shoppers with content that inspires them to go to a store and buy a specific product. Retailers and brands must find ways to cut through the noise and motivate shoppers by understanding how they use their mobile devices to discover, evaluate, and shop for products. By building mobile strategies that center on understanding shoppers and their needs within the context of the holiday shopping season, marketers, brands, and retailers can create experiences that will ultimately drive more in-store shopping.
The webinar will cover:
How mobile technology influences shopper options and actions
The data needed to better target holiday shoppers and how to use it
The importance of product availability
Leveraging location awareness to drive shoppers to the right stores
Building engaging mobile experiences with relevant content that connects in a way that drives shoppers into brick and mortar stores
When: Tuesday, September 27, 2016 at 1.30 PM EDT
Where: GoTo Webinar - register at https://attendee.gotowebinar.com/register/5698477773316864004
Contact: Angela Milinazzo
Telephone: 781-640-6863
E-mail: angela(at)shopadvisor(dot)com
Website: http://www.shopadvisor.com