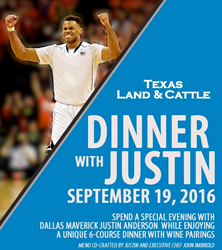 Cooking is one of my passions and this was a great opportunity for me to work with a truly great chef
DALLAS, TX (PRWEB) September 08, 2016
When Dallas Mavericks' 2nd year player Justin Anderson is asked about his passions off the court, one of his first responses is always "food and cooking." So when he had the opportunity to create a menu with a professional chef, he jumped at the opportunity.
On September 19, at Texas Land & Cattle's Uptown location in Dallas, Anderson will host an exclusive dinner featuring a 6-course menu he crafted and created with Day Star Restaurant Group's Executive Chef John Imbriolo. The two have been spending some time in Day Star's test kitchen this summer, and it's time to unveil the results.
"Cooking is one of my passions and this was a great opportunity for me to work with a truly great chef," said Anderson when asked about the experience. "It will be a great night with great food."
Containing culinary influences from Anderson's childhood states of Virginia and Maryland, and his newly adopted home of Texas, each course will also be paired with the perfect wine. For information on the menu and to make reservations, go to http://www.TXLCevents.com
Texas Land & Cattle
3130 Lemmon Avenue
Dallas, TX 75204