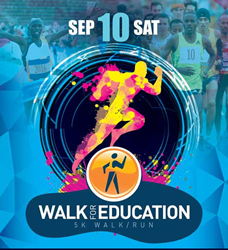 New York, New York (PRWEB) September 08, 2016
New Yorkers can lace up for a purpose this weekend at the inaugural New York Walk for Education on Saturday, Sept. 10. More than 1,200 community supporters are expected to come together on Roosevelt Island for this celebration of education benefitting New York students and UNCF's member institutions. New York State Sen. Kevin S. Parker will serve as grand marshal, with a special appearance by Rotimi, an actor on Starz's network "Power." HOT 97's Lisa Evers and Dr. Bob Lee of WBLS will host the fundraising event.
"I am humbled to serve as the Grand Marshall for the United Negro College Fund's 2016 New York 5K Walk/Run for Education," said Sen. Kevin S. Parker "I applaud UNCF for their vision to create an event that promotes both health and wellness and most importantly, supports our children's ability to succeed and realize their dreams."
"Education is major priority on my agenda in the State Senate as I work to expand access and eliminate financial barriers to higher education for deserving students across New York State. Team Parker is proud to support UNCF in ensuring that more students from communities of color not only have the opportunity to go to college, but that they can also afford the investment."
"UNCF remains steadfast in enriching the lives of the next generation of Americans through a quality education," said Lisa Banks, UNCF's Area Development Director. "The inaugural New York Walk for Education allows us to continue the quest plight one footprint at a time, securing better futures for us all."
Whether you walk or run, bring the whole family for a day full of fun, including Zumba instruction, health screenings, college and financial aid information and much more. This event is made possible by the support of this year's sponsors: Delta, Investors Bank, Time Warner, Whole Foods Market, WBLS 107.5 FM, Hot 97 FM and 1190 WLIB.
"Delta is a proud supporter of UNCF and is looking forward to participating in this important event with our own team of walkers," said Henry Kuykendall, vice president-New York, Delta Air Lines. "Delta's commitment to New York means more than providing exceptional service in the skies and on the ground. Our more than 10,000 New York-based employees are deeply integrated into the community, working with organizations and supporting causes that are near and dear to the hearts of New Yorkers."
UNCF has been changing lives for generations by enabling more than 430,000 students to graduate from college since it was founded. Last academic year, thanks to the commitment of UNCF stakeholders and sponsors, New York students received more than $3.8 million in scholarships.
For more information or sponsorship opportunities for the UNCF New York Walk For Education, visit UNCF.org/NewYork or contact Lisa Banks at lisa.banks(at)uncf.org or 212.820.0151.
Follow the New York UNCF Walk for Education on social media: @uncf @uncfny #laceup4UNCF#laceup4UNCFNY
###
About UNCF
UNCF (United Negro College Fund) is the nation's largest and most effective minority education organization. To serve youth, the community and the nation, UNCF supports students' education and development through scholarships and other programs, strengthens its 37 member colleges and universities, and advocates for the importance of minority education and college readiness. UNCF institutions and other historically black colleges and universities are highly effective, awarding nearly 20 percent of African American baccalaureate degrees. UNCF awards more than $100 million in scholarships annually and administers more than 400 programs, including scholarship, internship and fellowship, mentoring, summer enrichment, and curriculum and faculty development programs. Today, UNCF supports more than 60,000 students at more than 1,100 colleges and universities across the country. Its logo features the UNCF torch of leadership in education and its widely recognized motto, "A mind is a terrible thing to waste."® Learn more at UNCF.org, or for continuous updates and news, follow UNCF on Twitter at @UNCF.