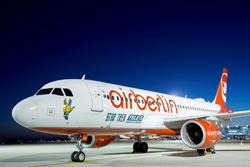 Miami, Florida (PRWEB) September 08, 2016
Star Trek on board
airberlin and TELE 5 surprised passengers to celebrate 50 years of Star Trek
An aircraft cabin becomes a film set: Marvin Töpfer, a senior cabin crew member at airberlin, is stationed in Dusseldorf, airberlin's main hub for flights to and from the United States, where he has worked for the airline since 2010. Recently, for a day he exchanged his airberlin uniform for that of famous Star Trek character, Mr. Spock.
The reason for the unusual role switch was the 50th anniversary of the famous series on September 8, 2016. In conjunction with TELE 5 - the German TV channel which has exclusive free-TV broadcasting rights for the original Star Trek series in Germany - airberlin not only presented an anniversary airplane with a special livery to mark the occasion, but also put on a very special flight. The video is available online at http://www.airberlin.com/startrek. The plane will be operating flights in the European short and medium haul network until the end of September. Check out the video of the special flight at airberlin.com/star-trek and also those who participate as commentators on social media facebook can enter to win two tickets on airberlin. See attachment for details.
Flight AB2386 from Dusseldorf to Palma de Mallorca had a number of colourful surprises in store for airberlin passengers: on board the anniversary aircraft, presented for the first time yesterday, service was provided by Captain James T. Kirk, Mr. Spock, Dr. Leonard McCoy and Lt. Uhura, while unusual announcements provided for additional entertainment and many happy photo memories. Each passenger also received a strictly limited-edition drinking cup, which will certainly enjoy collector value among Trekkies.
"Every flight is unique and the great thing about my job is that it never gets boring. This flight, where I played a world-famous character, was a very special moment that I will always fondly remember," said Marvin Töpfer – aka Mr. Spock.
Six specially-recruited additional crew members joined this special flight: four flight attendants and two pilots. "For this wonderful project, my colleagues and I were happy to report for duty on our day off," said Marvin Töpfer.
The airberlin Airbus A320, which bears the official registration D-ABFG, will be flying around the airline's European network throughout September. The anniversary flyer also features specially produced Star Trek headrests.
TELE 5 will celebrate the anniversary on September 8 with special programming. As part of the co-operation, airberlin will also feature a selection of Star Trek episodes and bonus features in its inflight entertainment programme in the coming months. Trekkies – and all those who would like to become one – can find more information online: http://www.airberlin.com/star-trek and http://www.tele5.de/startrek50.
About airberlin
airberlin is one of the leading airlines in Europe and flies to 131 destinations worldwide each year. The second largest airline in Germany carried more than 30.2 million passengers in 2015. airberlin offers a global route network through its strategic partnership with Etihad Airways, which has a 29.21 per cent share in airberlin, and through membership of the oneworld® airline alliance. topbonus, the frequent flyer programme of airberlin, is one of the leading programmes in Europe with more than 4 million members. The airline with the award-winning service operates codeshare flights worldwide with 23 airlines. The fleet is among the most modern and eco-efficient in Europe. Together with other airlines, airberlin belongs to Etihad Airways Partners, a new brand with which Etihad has been uniting shared activities since the end of 2014.
Press contact:
Janina Mollenhauer
Press Officer
Tel.: +49 30 3434 1500
E-mail: Janina.mollenhauer(at)airberlin.com
http://www.airberlin.com
Silke Schuffenhauer
TELE 5 Communications
Tel.: 089-649568-172
E-mail: presse(at)tele5.de
http://www.tele5.de