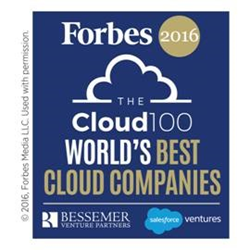 Inclusion in the Forbes 2016 Cloud 100 list recognises a company for its financial growth and excellence as recognised by customers and peers
LONDON (PRWEB UK) 8 September 2016
NewVoiceMedia, a leading global provider of cloud technology that helps businesses sell more, serve better and grow faster, has been named in the first-ever Forbes 2016 Cloud 100, the definitive list of top 100 private cloud companies in the world, developed in partnership with Bessemer Venture Partners.
"NewVoiceMedia is honoured to be included in this prestigious list of private cloud companies", commented NewVoiceMedia CEO Jonathan Gale. "We continue to advance and hone our suite of true cloud solutions which offer companies an intelligent communications platform to help them forge deeper connections with their customers, and are proud that our accomplishments have been recognised by Forbes".
"Cloud companies are revolutionising how businesses reach their customers today from digitising painful old processes to allowing them more time to focus on what they really care about—what makes their products unique", said Forbes editor of the Cloud 100 list Alex Konrad. "Inclusion in the Forbes 2016 Cloud 100 list recognises a company for its financial growth and excellence as recognised by customers and peers".
"These are the companies to watch!" said Byron Deeter, a leading cloud investor and partner at Bessemer Venture Partners. "The Forbes Cloud 100 companies represent the very best private companies in cloud computing. We will see big IPOs and category killers emerge from this list as the cloud computing continues to propel the trillion-dollar software industry".
Methodology
The first-ever Forbes 2016 Cloud 100 list profiles the world's top-tier private companies leading the cloud technology revolution, plus twenty rising stars within the field. With advancements in software, cloud security, or platform development, these companies are redefining the future for all industries and sectors.
Forbes, in partnership with Bessemer Venture Partners, received hundreds of submissions to identify the most promising private companies in cloud. The Forbes 2016 Cloud 100 was selected by a panel of judges representing leading public cloud companies, using qualitative and quantitative data submitted by nominees, along with publically available third-party data sources.
Recognition
Every company named to the Forbes 2016 Cloud 100 is recognised in print and online by Forbes, and Forbes' partners Bessemer Venture Partners and Salesforce Ventures. The companies also receive physical awards and digital badges signifying their inclusion on this exclusive list, as well as an invitation to the celebratory Cloud 100 Awards Dinner, hosted in San Francisco by Forbes, Bessemer Venture Partners and Salesforce Ventures.
Find the full Cloud 100 list at http://www.forbes.com/cloud100. For more information about NewVoiceMedia's technology, visit http://www.newvoicemedia.com.
About NewVoiceMedia
NewVoiceMedia powers customer connections that transform businesses globally. The leading vendor's award-winning cloud customer contact platform revolutionises the way organisations connect with their customers worldwide, enabling them to deliver a personalised and unique customer service experience and drive a more effective sales team. With a true cloud environment and proven 99.999% platform availability, NewVoiceMedia ensures complete flexibility, scalability and reliability.
Spanning 128 countries and six continents, NewVoiceMedia's 600+ customers include PhotoBox, MobileIron, Lumesse, JustGiving and Canadian Cancer Society. For more information, visit http://www.newvoicemedia.com or follow NewVoiceMedia on Twitter @NewVoiceMedia.