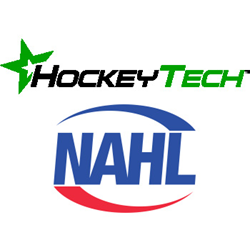 By partnering with HockeyTech, the NAHL benefits from having a single technology partner that is exclusively focused on the sport of ice hockey
Waterloo, Ontario (PRWEB) September 08, 2016
HockeyTech, the worldwide leader in hockey related technologies, analytics and information services, announces a long-term agreement with the North American Hockey League (NAHL) to deploy HockeyTech's comprehensive suite of integrated technologies. With this expanded relationship, the NAHL and its affiliated leagues (NAPHL and NA3HL) will take advantage of HockeyTech's best-in-industry software and data services for live scoring, statistics, websites, mobile apps, player scouting, player management, player testing, video services, and game streaming.
"By partnering with HockeyTech, the NAHL benefits from having a single technology partner that is exclusively focused on the sport of ice hockey," said NAHL Commissioner Mark Frankenfeld. "This relationship enhances our primary mission to develop and advance our players, as well as to provide our fans with engaging statistics and digital services."
To provide some examples of how HockeyTech will help the NAHL:

All league games will be scored through HockeyTech Scoring and Stats system, capturing ever expanding game events.
The league and team websites and mobile apps will all by produced with HockeyTech technology for coordinated network functionality, with game, player and league stats updated in real time.
All games will be viewable both live and on demand through HockeyTech video streaming service FASTHockey.com.
Teams will have access to HockeyTech scouting and video technologies to scout, recruit, train, evaluate and advance players.
These same HockeyTech technologies are deployed throughout the elite hockey world by NHL, minor pro teams, NCAA and other Tier 1 junior leagues. This creates an ecosystem for the advancement of players into, within and upwards from the NAHL leagues.
"The HockeyTech team is incredibly excited to so greatly expand our relationship with the NAHL", said HockeyTech President Marc Ruskin. "We have had an incredible relationship with the league over the years, and we look forward to working together to ensure that the league has all of the tools it needs to provide players with the opportunity for development and advancement."
About the North American Hockey League
The NAHL, the only USA Hockey-sanctioned Tier II Junior league boasting 24 teams from across North America, prides itself on the social maturity and skill development of student-athletes ages 16-20 with aspirations of advancing to collegiate and/or professional hockey. During the 2015-16 season, the NAHL set a new single-season record with 259 NCAA commitments, 67% of which were NCAA Division I commitments. In addition, five NAHL players that played in the league this past season were selected in the 2016 NHL Entry Draft.
FOLLOW NAHL on Twitter: @NAHLHockey
LIKE NAHL on Facebook: Facebook.com/NorthAmericanHockeyLeague
About HockeyTech
HockeyTech is a worldwide leader in providing hockey-related technologies, analytics and information services. HockeyTech was founded in 2013 by Stu Siegel (technology entrepreneur and former Florida Panthers Managing Partner/CEO) through a series of acquisitions. While HockeyTech is a new corporate identity, our brands have been providing cutting-edge solutions to the hockey world since 1998. For more information, visit http://www.hockeytech.com
FOLLOW HockeyTech on Twitter: @HockeyTech
LIKE HockeyTech on Facebook: Facebook.com/HockeyTech