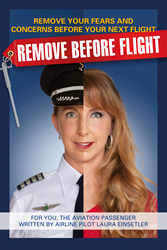 "Come fly with me"!
(PRWEB) September 09, 2016
Captain Laura Einsetler, a commercial airline pilot with over 30 years of flying experience, will be teaching Reno area kids about the exciting world of aviation at the Reno Air Races September 15 and 16. Kids who attend these field trips will learn about the science of flight as well as flying drones, launching rockets and experiencing flight simulation through ALEX (Aerospace Learning Experience also with Captain Joe Ragacic). Einsetler who is an aviation expert, speaker and author, is also teaching a Fear of Flying course at the races on September 17 and 18.
The talk is especially timely due to the upcoming release of the motion picture, Sully and focuses on empowering passengers with knowledge and confidence regarding commercial flight and aviators. Her writing credentials include a soon to be released book on the subject titled Remove Before Flight, as well as a previous book titled Lost and Found, an epic story of strength and courage during the tragedy of September 11th, 2001.
She can be found in the speaker tent next to the Blue Angels team on the east side of the event grounds.
For more information see: CaptainLaura.com