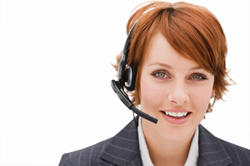 The existence of problems is not as important as the way they are handled.
Montreal, Canada (PRWEB) September 10, 2016
These days, online reviews about a company's customer service need to be taken with a grain of salt, as undercover work by media watchdogs has shown that some companies fudge their ratings by creating fake reviews. However, when the indignant, angry voices far outweigh the positive ones, shrewd shoppers know something is up.
Sadly, no matter how good a product is, it's customer service that can make or break a company. This is why it's so important for companies to pay special attention to the type of representatives they hire.
Analyzing data from 564 customer service representatives who took their Customer Service Job Fit Test, researchers at PsychTests divided their sample according to the participants' most recent job performance ratings. When they compared the "Excellent" vs. "Satisfactory" reps, the differences were striking. Excellent performers outscored Satisfactory ones on ten key traits: (Note: Scores range on a scale from 0 to 100).
1) PLEASANTNESS
Score for Excellent reps: 85
Score for Satisfactory reps: 71
Customers may not be able to recall exactly what was said during a conversation with a customer service rep, but they will certainly remember how an employee made them feel. One rude comment, even if inadvertent, can spell the end of a business relationship. While reps are not expected to plaster a fake smile on their face and pretend that they enjoy being treated rudely, they must strive to be pleasant, civil, and respectful at all times.
2) EMOTIONAL CONTROL
Score for Excellent reps: 83
Score for Satisfactory reps: 68
Even if an employee feels his or her buttons are being pushed, he/she needs to stay composed and in control. An angry outburst will likely lead to a formal complaint, and may give a customer enough reason not to do business with the company again.
3) EMPATHY & SOCIAL INSIGHT
Score for Excellent reps: 83
Score for Satisfactory reps: 70
These two core competencies associated with emotional intelligence are important traits that reps must develop. Being able to understand and relate to a customer's feelings allows good reps to interact with them more productively. Employees with these traits have a good understanding of human nature, can pick up on subtle social cues and correctly read others' body language, allowing them to better respond to a customers' needs.
4) COMMUNICATION SKILLS
Score for Excellent reps: 77
Score for Satisfactory reps: 58
It goes without saying that customer service reps need to be able to express ideas and information clearly and effectively. Like a game of telephone, poor communication can result in misunderstandings that can confuse, annoy, and induce customers to believe that they are intentionally being misled by a company, all of which can result in serious business and even legal consequences.
5) ASSERTIVENESS
Score for Excellent reps: 72
Score for Satisfactory reps: 50
Although it's important for customer service employees to be kind and diplomatic, they also need to be able to assert themselves effectively. This doesn't mean taking an inflexible stance and saying "no" to all requests. It means knowing when to stand one's ground, especially when a customer is being aggressive, threatening or just plain difficult. Assertive reps speak to others respectfully but authoritatively.
6) CONFLICT-RESOLUTION SKILLS
Score for Excellent reps: 81
Score for Satisfactory reps: 64
The ability to resolve conflict in a mature and constructive manner is essential in jobs in which a person interacts with the public. Good customer service reps are able to remain objective in disagreements and find a solution that makes all parties happy.
7) SELF-EFFICACY
Score for Excellent reps: 76
Score for Satisfactory reps: 56
Reps with a strong sense of self-efficacy will not back away from even the most difficult challenges. They are confident, persistent, and believe in their ability to succeed. Customers may also be more willing to place their faith in someone who exudes confidence and assurance. Nothing is more frustrating to customers than being bounced around to different departments because an employee doesn't have the skills and knowledge to resolve an issue.
8) STRESS MANAGEMENT
Score for Excellent reps: 81
Score for Satisfactory reps: 62
Even under the stress of attaining certain quotas or having to deal with impatient customers, the best reps still manage to stay focused and get things done. They are able to remain calm and level-headed in trying situations in which most people would lose their composure. Not an easy feat.
9) SELF-MOTIVATION
Score for Excellent reps: 86
Score for Satisfactory reps: 68
A particularly challenging day at work can leave some customer reps wondering why they chose the profession. Relying on money or other similar incentives may not be enough to keep an employee motivated, particularly when he or she is being yelled at or insulted by a frustrated customer. Self-motivated reps are able to find the inspiration from within to keep going. Rather than asking "Why do I put up with this job?" they ask "What is it about this job that makes all this worth putting up with?"
10) UNFLAPPABILITY
Score for Excellent reps: 78
Score for Satisfactory reps: 61
Tying into self-motivation and stress management, customer service reps need to be resilient in order to overcome challenges and move on from difficult experiences. Not only do they have to have a thick skin in order to cope with rude customers, they also need to be able to recognize that amidst failure, disappointment, and unpleasant experiences lies an important lesson to be learned.
"The existence of problems with a product or service is not as important as the way they are handled," explains Dr. Jerabek, president of PsychTests. "Companies need to be willing to invest in hiring and training the right people in order to provide the best service possible. After all, your customer service representatives are the 'face' of your company. They hold the integrity of your reputation in their hands. This means that all it takes is one bad experience for clients to decide to take their business - and hard-earned money - elsewhere."
"No matter how many new customers you have coming in, you need to be able to keep them happy. In fact, many customers are often willing to overlook higher prices on a product or service if they've had a good experience with a company's customer service. They will also be more likely to become a longtime patron. You can't buy that kind of loyalty. It comes from knowing how to find the right people for the job."
Want to assess your customer service aptitude? Check out http://testyourself.psychtests.com/testid/3876
Professional users of this test can request a free demo for the CSP - R3 (Customer Service Profile - 3rd Revision) or any other assessments from ARCH Profile's extensive battery: http://hrtests.archprofile.com/testdrive_gen_1
To learn more about psychological testing, download this free eBook: http://hrtests.archprofile.com/personality-tests-in-hr
About PsychTests AIM Inc.
PsychTests AIM Inc. originally appeared on the internet scene in 1996. Since its inception, it has become a pre-eminent provider of psychological assessment products and services to human resource personnel, therapists, academics, researchers and a host of other professionals around the world. PsychTests AIM Inc. staff is comprised of a dedicated team of psychologists, test developers, researchers, statisticians, writers, and artificial intelligence experts (see ARCHProfile.com). The company's research division, Plumeus Inc., is supported in part by Research and Development Tax Credit awarded by Industry Canada.