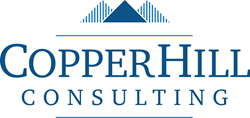 Philadelphia is a very important piece to our business strategy which will significantly expand our presence in this dynamic and growing market
Philadelphia, PA (PRWEB) September 13, 2016
CopperHill Consulting's operations in the Philadelphia area will include a full service Salesforce CRM, Digital Marketing, and Business Intelligence consulting practice. The new office will be located in Plymouth Meeting, PA.
The entry into Philadelphia supports CopperHill's strategic business plan and growth strategy initiatives aimed at providing specialized consulting services to clients in key markets around the U.S. "Philadelphia, including the 11 surrounding counties in northern Delaware, southern New Jersey, and southeastern Pennsylvania, is a very important piece to our business strategy which will significantly expand our presence in this dynamic and growing market," said John McCloskey, CEO of CopperHill Consulting.
The expansion targets Philadelphia's business climate of growth, collaboration and innovation with a regional economy that ranks in the top three among all metropolitan areas in the Northeast US and is home to 25 fortune 500 companies.
About CopperHill Consulting
CopperHill Consulting is a business focused technology-consulting firm specializing in cloud-based solutions, process optimization, Business Intelligence/Analytics, and enhancing customer experience. We focus on leveraging salesforce.com, NewVoiceMedia, MapAnything, Workato, Amazon Web Services and other products to address client needs and develop actionable plans to maximize the benefits of our client's investment, visit http://www.copperhillconsulting.com.