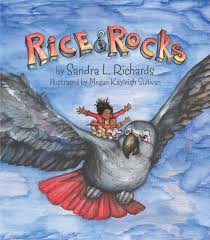 The element of travel and diversity and the elegant embrace of the African Diaspora make 'Rice & Rocks' an illuminating (and tasty) tool for education.
New York, NY (PRWEB) September 12, 2016
How can adults help children embrace their family's culinary traditions? In "Rice & Rocks," the beautifully illustrated 32-page picture book, kids from all over the globe learn the value of heritage when they join Giovanni, his favorite Auntie and a mystic parrot on an adventure that delights the adventurous foodie in us all.
Readers meet Giovanni before his friends come over and he finds out his grandmother is serving rice and beans, a traditional Jamaican side dish. Giovanni is embarrassed—he does not like rice and beans, calling them "rice and rocks" and worries his friends will think the dish is weird. So his favorite Auntie comes to the rescue. She and Giovanni's pet parrot, Jasper, take him on a magical journey across the globe, visiting Japan, Puerto Rico and New Orleans, to learn about similar foods he can add to his family's Sunday meal that each place offers.
"In 2007, I lost my 8-year-old nephew Giovanni to meningitis," explains author Sandra L. Richards about the inspiration for "Rice & Rocks." "I fondly remember one conversation in particular. Giovanni was a very imaginative kid and decided he wouldn't eat his grandma's rice and beans because the beans looked like rocks to him. That conversation ultimately led to this book being written in my nephew's memory," explains the first-time author. The element of travel and diversity and the elegant embrace of the African Diaspora make "Rice & Rocks" an illuminating (and tasty) tool for education. It is the perfect solution for parents who want their children to embrace their family's heritage and traditions, teachers who want to expand the global horizons of their students, or adults reading along who want to help kids appreciate the diversity—and commonalities—that exist in the world. To further spread the message of diversity and inclusion, with each purchase of "Rice & Rocks," Sandra will donate one copy of the book to an organization that focuses on children's literacy program.
Early Praise for "Rice & Rocks"
"'Rice & Rocks' has something, literally, for every child. It teaches the joy of sharing and bonding over mealtime, and the universality of celebrating holidays with traditional food (in this case, the same dish). Rice and Rocks takes me back to when I was a girl in New Orleans. Stories that combined exciting fantasy with sound life lessons remain vivid in my memory, as this one will." - Donna Brazile, author of Cooking with Grease and Syndicated Columnist
"'Rice & Rocks' was inspiring! I easily found my lost youth in the brilliant illustrations and whimsical lyrical expressions; Sandra Richards gives us back a part of our wonder years to rediscover. And for children coming into their own awareness, they are encouraged to be enchanted, seed their imagination and be proud of who they are and their family traditions that are begging to be embraced." - Alexander Smalls, Chef/Owner of Minton's and The Cecil Restaurants, NYC
About the Author
Sandra L. Richards is the debut picture book author of "Rice & Rocks." With "Rice & Rocks," Sandra brings a unique contribution to the world of children's books. An American-born daughter of Jamaican immigrant parents, she hopes the book will serve as an educational resource for families seeking to teach their children the value of their heritage and the importance of cultural diversity. Sandra completed both her undergraduate and graduate studies at Seton Hall University and is the Executive Director, Head of Diverse and Multicultural Marketing, Wealth Management at Morgan Stanley. Learn more about Sandra at http://www.sandralrichards.com.
About the Illustrator
Megan Kayleigh Sullivan graduated from Rhode Island School of Design in 2012 with a degree in Illustration. She is currently working as a freelance illustrator and storyboard artist, and aspires towards a career in the film and animation industry as a concept artist, character designer, or visual development artist (or all of the above). She enjoys traveling, writing, telling stories, and hula-hooping. Visit her at her website: http://www.357meg.com/.
"Rice & Rocks" (Wise Ink Creative Publishing, $17.99) is available from Amazon.com, Barnes and Noble, Books A Millions or your favorite local independent bookstore.