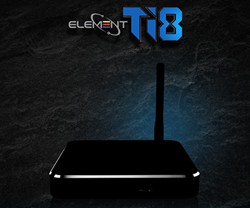 This streaming media player will revolutionize the way we watch TV, movies and sports on our televisions.
Winter Springs, Florida (PRWEB) September 10, 2016
Element Technologies announced last week that they are releasing the world's first Octa-Core Android TV Box, the Element Ti8. This streaming media player will surpass all others that are currently on the market with quicker processors, more memory and RAM and Android 6.0.
The Element Ti8 will be the fastest operating Android based streaming media player to hit the market. When compared to other streaming devices on the market, the Element Ti8 has numerous technical spec advances than what anyone has seen before. Higher ram, higher internal memory, octa-core cpu, Android 6.0 and access to the Google Play Store to download streaming apps and subscription services, this device is lightyears ahead of any other device on the market today.
"The Octa-Core Processor is the cutting edge of streaming technology" said company president Chase Musser. "We're the first to bring this technology to the customer. It will provide the fastest, highest quality streaming at a great price."
The Octa-Core CPU at the heart of the Ti8 is the Amlogic S912 Cortex A53 with speeds up to 1.5 GHz. The Ti8 is also powered by an ARM Mali-T820MP3 Graphics Processor that allows users to stream in 4K at 60 frames per second.
The Ti8 runs Android 6.0 Marshmallow, one of the latest and fastest versions of the Android Operating System. This allows full access to the Google Play Store and the thousands of streaming apps available there including Netflix, Hulu, SlingTV, and HBO Now.
The Ti8 also runs Kodi, a popular third party streaming app that allows users to stream their content from local network drives.
The streaming industry continues to grow as customers move away from rising cable bills. According to Leichtman Research Group, the price of cable has risen 8% per year since 2010. A rate of almost four times the rate of inflation.
"We're giving consumers the options they want. They want to stream what they want, without paying a high cable bill that includes a lot of channels they don't watch", said Musser. "We are really exicted about the release of this box and are anxious to get them in both our customers hands and distributors hands."
Pre-orders for the new Element Ti8 Android TV Box will start September 9th.
For more information on the Ti8, visit Element's website http://www.kodielement.com.