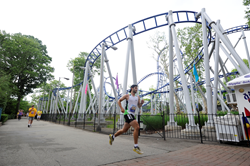 Charlottesville, VA (PRWEB) September 08, 2016
Registration is now open for Roller Coaster Race, a 10K race and 5K run/walk taking place at Six Flags Over Texas in Arlington on Sunday, October 2. As featured in Runner's World magazine, the family-friendly event encourages fitness and entertainment for all skill levels and ages in conjunction with the original-concept roller coaster event, Roller Coaster Ride.
The 10K race and 5K run/walk begin at 7:30 am, prior to the park opening. The race courses run through and around Six Flags Over Texas. Half of the 10K course takes place on city streets around the Dallas Cowboys' AT&T Stadium and the Texas Rangers' Globe Life Park. Runners will enjoy up-close views of the park's roller coasters and rides as they race around the park, which will be decorated for its annual Fright Fest Halloween celebration. Top finishers in the 10K race will earn cash prizes.
Roller coaster enthusiasts and runners alike can also sign up for the optional Roller Coaster Ride. Registered participants can earn a medal when they ride a cumulative "5K ride distance" along the tracks of Six Flags Over Texas's 12 thrilling coasters, including "Titan," "New Texas Giant," and "Shock Wave."
Participants can register for a run, the Roller Coaster Ride, or both. Every event registration includes free admission to the theme park, free parking, a commemorative shirt, and a race or Ride finisher medal.
Roller Coaster Race supports the following charities: the local chapter of Pinky Swear Foundation, the Texas-based National Roller Coaster Museum & Archives, and SYTA Running for Youth.
Adam Slate, Roller Coaster Race director, says, "Six Flags Over Texas is a beautiful venue and an ideal setting for the Roller Coaster Race. Six Flags' flagship park is home to a host of amazing attractions."
"We are thrilled to host the Roller Coaster Race at Six Flags Over Texas for a second year," says Steve Martindale, Six Flags Over Texas park president. "We're excited to give our guests a whole new way to enjoy the park's attractions by racing through the park and adding an additional experience of tracking mileage on the roller coasters. It's the perfect way to combine fun and fitness into one amazing, adrenaline-charged experience."
Online registration for the Roller Coaster Race at Six Flags Over Texas closes on September 27. For more information or to register for the event, please visit http://rollercoasterrace.com/arlington
About Roller Coaster Race
Roller Coaster Race is a national running series that partners with theme and amusement parks across the country to create family destination events combining fitness and entertainment. Launched in 2014 and first of its kind, Roller Coaster Race's reach is growing, with seven events in 2016. Roller Coaster Race's parent company, WorldStrides, is the nation's largest and most respected accredited travel organization. Over the course of fifty years and across ninety countries, WorldStrides has worked extensively with student groups, families, and teams attending sports tournaments, amusement parks, music and theater festivals, bowl games, and jamborees.
Like us on Facebook at http://www.facebook.com/runorride
Follow us on Twitter at http://www.twitter.com/runorriderace
About Six Flags Entertainment Corporation
Six Flags Entertainment Corporation is the world's largest regional theme park company with $1.3 billion in revenue and 18 parks across the United States, Mexico and Canada. For 55 years, Six Flags has entertained millions of families with world-class coasters, themed rides, thrilling water parks and unique attractions. For more information, visit http://www.sixflags.com.
Press Contact
Julia Harris
GiffordPR (on behalf of Roller Coaster Race)
julia(at)giffordpr(dot)com
(646) 373-0621