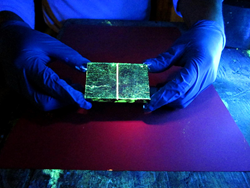 "Fantastic experience at this school. The instructors did a great job of using their real world experiences to teach us in a way that was more interactive." Dominic R
Baxter, MN (PRWEB) September 29, 2016
The American Institute of Nondestructive Testing announces the expansion of their corporate training curriculum, as well as Nondestructive Testing (NDT) Level III consulting services.
"In the last year we have had a multitude of requests for corporate NDT training courses and NDT Level III consulting services so we are adding these services to our school to meet the demand. Our NDT consulting services are up and running now and the expanded corporate training courses, which include Level III exam prep courses for the ASNT (American Society of Nondestructive Testing) Level III Basic examination, as well as ASNT Level III Radiography, Ultrasonics, Magnetic Particle, Liquid Penetrant and visual exams will be launched this coming December."
What is nondestructive testing?
Nondestructive Testing (NDT) plays an important role in assuring that structural and mechanical components perform their function in a safe, reliable, and cost-effective manner. NDT technicians perform the necessary tests to locate the indicators and discontinuities that may cause failures or shut downs in such systems. These tests are performed in a manner that does not affect the future usefulness of the object or material – hence, the name "nondestructive." NDT allows for careful and thorough materials evaluation without the need for deconstruction or damage. NDT is typically used at various points in a part's life cycle. NDT can be used prior to the use of a component for the sake of quality control. NDT is also employed while components are in use to detect service related conditions caused by wear, fatigue, corrosion, stress, or other factors which affect reliability.
The American Institute of Nondestructive Testing was recently recognized for its growth in the Brainerd Daily Dispatch.
http://www.brainerddispatch.com/news/4108455-progress-american-institute-nondestructive-testing-thriving-school-future