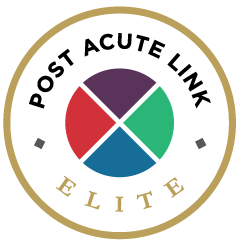 Cary, NC (PRWEB) September 10, 2016
Accreditation Commission for Health Care (ACHC) is proud to announce it has earned the 2016 Post Acute Link Elite distinction. This annual designation is awarded to the top 25% of Post Acute Link (PAL) partners as determined by provider ratings of their meeting experiences at the conference. This rating is based on scores of meeting preparation, product development/innovation, consultation, and overall value. Out of 87 partners, ACHC was the only accrediting organization to earn this distinction.
"We are very honored to receive this distinction. At ACHC we work hard to ensure that each of our PAL meetings provides value and relevant information to attendees," said Matt Hughes, ACHC Director, Business Management & Customer Service. "ACHC is committed to providing the best possible customer service, and we feel that the experience we give each organization at PAL sets us apart. We are grateful that the PAL forum allows us the opportunity to share our message."
PAL is the first event of its kind to bring together leading providers from all post-acute sectors – skilled nursing, senior living, home health, and hospice.
"Every solution partner at Post Acute Link is ready to help providers move towards a value-based future," said David Ellis, Post Acute Link Managing Director. "Congratulations to our Elite partners, who delivered stellar value to attendees."
For more information about PAL, please visit postacutelink.com.
ACHC is a non-profit accreditation organization that has stood as a symbol of quality and excellence for 30 years. ACHC offers nationally recognized accreditation services for home health, hospice, and private duty agencies. The organization has Centers for Medicare & Medicaid Services (CMS) Deeming Authority for Home Health, Hospice, and Durable Medical Equipment, Prosthetics, Orthotics, and Supplies (DMEPOS), and a Quality Management System that is certified to ISO 9001:2008. ACHC's consultative approach to accreditation is designed to improve the quality of patient care while enhancing business efficiencies through service-specific standards and industry-based best practices. Throughout the entire accreditation process, ACHC is dedicated to delivering the best possible experience.
For more information on ACHC's Accreditation programs, or to download ACHC Accreditation Standards, please visit achc.org or contact customerservice(at)achc(dot)org or 855-937-2242.