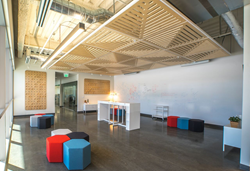 Being recognized as one of Utah's fastest growing companies is a proud moment for BGZ brands, especially when you consider the incredible products and solutions coming out of the silicon slopes. -Kirk Feller
LEHI, UT (PRWEB) September 13, 2016
BGZ brands™, parent company of BodyGuardz®, the known leader in screen protection innovation, was ranked as the 10th fastest growing company in the state, according to Utah Business magazine's annual Fast 50 list.
"Being recognized as one of Utah's fastest growing companies is a proud moment for BGZ brands, especially when you consider the incredible products and solutions coming out of the silicon slopes," said Kirk Feller, president and CEO, BGZ brands. "This was a team effort, and I am so proud of what we've built, and look forward to achieving continued success through our commitment to innovation."
Utah Business recognizes the 50 fastest growing companies within the beehive state, for their entrepreneurial spirit, innovative business tactics, and exceptional revenue growth. This honor builds upon BGZ brands 2015 placement on the Inc 500 Fastest Growing Companies list.
To support this continued growth, BGZ brands opened a culturally and productivity groundbreaking "co-working" space. The new environment offers a thoughtful balance of personal spaces, social areas and collaborative war rooms, where unbridled innovation and product development can naturally thrive.
To learn more about BGZ brands and Kirk Feller's vision for the company, click here.
About BGZ brands™
BGZ brands' mission is to enhance our customers' lifestyles through branded products and services of elevated value and quality. Formerly known as BodyGuardz, BGZ brands has become the powerhouse parent company of three distinct consumer electronic accessory brands, including BodyGuardz®, a leading device protection company; Lander™, expedition-inspired accessories for the explorer in all of us; and MOXYO™, modern accessories for you. For more information, visit http://www.bgzbrands.com
###