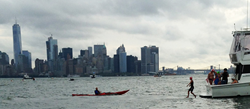 There's nothing to connect you with New York like swimming right under the Statue of Liberty and Ellis Island!
New York, NY (PRWEB) September 09, 2016
Known as the Liberty to Freedom Swim, this 2.2 mile | 3.5 kilometer open water swim is now in it's 3rd year. Staged annually in early September by URBANSWIM, this event is dedicated to celebrating the freedom of the American people, and to remembering those that died and served on 9/11.
On a cloudy and slightly windy Saturday morning, swimmers were transported to the swim start at the Statue of Liberty by motorboat. At 7:45 AM, swimmers began entering the Hudson River, and by 8:00 AM all were heading north toward Ellis Island. From Ellis Island, the swimmers crossed the Hudson for a finish at South Cove in the shadow of the Freedom Tower.
Steve Sholudra, the first finisher and 3 time winner of the event, broke his own record from last year's Liberty to Freedom Swim by 11 minutes, coming in at 45 minutes and 18 seconds.
Steve puts it this way, "As a New York Fordham swimmer, the Liberty to Freedom swim makes me feel like I'm truly a part of this city. There's nothing to connect you with New York like swimming right under the Statue of Liberty and Ellis Island!"
The swim continues to attract international athletes. This year, participants included Mareille Veenman, an open water swim coach from Amsterdam, who is no stranger to swimming for a good cause:
According to Mareille, "I started swimming about 4 years ago because I wanted to join a 2km swim event in the Canals of Amsterdam. The event was hosted by Amsterdam City Swim, a sponsor swim for ALS."
Sanem Dilek, a native of Turkey, is a swim coach and master swimmer in Modagen Swimming Club. She dedicated her swim to those who died on 9/11, to her swimming club and finally, to her country Turkey.
Sanem states, "In recent years, I started to become more interested in open water swimming rather than pool swimming. Since then, I have crossed Asia to Europe at the Cross Continental Race 5 times, and I'm very happy and excited to be a part of this meaningful event."
The event's success was due in part to Fleet Commander Paul Amico, who was instrumental in evacuating downtown Manhattan by boat on 9/11. Paul, working closely with the NYPD, Coast Guard, and on water safety fleet, made sure that all participants enjoyed a safe and memorable swim.
About URBANSWIM:
Urban Swim is an organization dedicated to providing people with safe access to clean water.
We stage open water swim events in urban areas as a means of fostering a relationship between people and water. Our events introduce people to the recreational possibilities of their local waterways, and in so doing, raise their awareness of water quality issues.