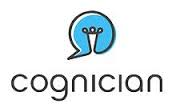 Cognician was built on three founding principles: To respect the learner, to figure out what the learner already knows, and to leverage what they are passionate about.
San Carlos, CA (PRWEB) September 12, 2016
Online learning models have always been about a convenient delivery method for useful information. But as most instructors know, the transmission of information alone is not enough to help a student learn. Edtech company Cognician has changed the face of corporate and academic online learning that meets the rapidly changing expectations of today's learners.
"Corporate and online learning has always been information-centric," said Barry Kayton, CEO and cofounder of Cognician. "It transmits information efficiently, but it doesn't change anybody's behavior. We've created a system that's actually based on the traditional master-sage relationship that has been used for thousands of years, but with a modern twist."
The cloud-based learning platform, used by large corporations around the world, inspires true change through a combination of inspiration, guidance, and follow-through, on an intelligent platform. The system interacts on a human level with learners, with an interface much like Siri or Alexa, asking probing questions in what Kayton calls "coffee shop style" as opposed to the strict academic tone often taken by mainstream e-learning systems.
Cognician was built on three founding principles, says Kayton: To respect the learner, to figure out what the learner already knows, and to leverage what they are passionate about. "Good learning provides you with answers, but great learning inspires you to ask questions," said Kayton. "We have captured that highly personalized approach in software in a way that brings the personalized experience of an intimate seminar to a larger, virtual group."
Cognician is rapidly gaining the attention of both corporate and academic learning organizations, and was recently featured in a Huffington Post article, entitled "Online Learning Takes a Page From a Two Thousand Year Old Teaching Method." The article offers an in-depth look at e-learning, and how Cognician has captured the best of ancient master-sage teaching and brought it into the modern world of intelligent and interactive software. In August, Cognician was profiled in a Entrepreneur magazine feature story entitled "Why High-Profile Speakers' Seminars and Workshops Don't Deliver."
Part of that personalized experience is delivered in what Cognician calls a "cog," a human-like chat avatar capable of conducting a simulated chat, asking thought-provoking questions, and inspiring human learners to think for themselves. The "insights" section adds a human-to-human experience, allowing learners to share with a group, comment on insights, and start new conversations in a social learning environment.
About Cognician
A groundbreaking edtech company that brings a highly personalized approach to corporate and academic e-learning, Cognician transforms traditional information-based learning to an interactive environment where students learn to think for themselves. For more information, visit http://www.cognician.com.