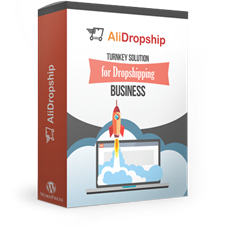 San Diego, CA (PRWEB) September 09, 2016
A unique tool for AliExpress dropshipping has been launched by AliDropship Company. Now everyone interested in making money through their own dropshipping business can easily share in the success of the world's biggest retailer.
AliExpress is an extremely popular retail platform operating all over the world. The marketplace allows buyers from 240 countries to buy products at wholesale prices directly from manufacturers, with a catalogue that includes 100+ million items. AliExpress is a part of Alibaba Group, the world's No 1 sourcing platform. This Chinese online giant gets a volume of orders exceeding that of eBay and Amazon combined, and the trading platforms of Alibaba Group have already engaged hundreds of millions of loyal buyers.
The wholesale prices offered by AliExpress are typically so low, that even if they were to be multiplied by 10, they would still make the best offers in the market. Unsurprisingly, dropshipping with AliExpress makes for an attractive income opportunity, which is why lots of online businesspeople are keen to earn money offering the retailer's products via their own dropshipping store.
The great problem until recently was the lack of handy and affordable tools for the creation of AliExpress dropshipping stores and for easy product downloading. The few existing solutions were too expensive and required monthly payments which stripped businesses from really high profits.
The way out was offered by AliDropship Company: its experts developed and launched a WordPress based AliDropship Plugin that allows people to build their own webstore in a matter of minutes. Earlier, it was a true challenge to search for items in AliExpress's huge catalogue, import them and then regularly update the product information by hand. The new plugin makes it possible to add hundreds of the merchant's products in several clicks, and later have them updated on auto-pilot. Last but not least: you only pay once for the plugin – and become the 100% owner of a dropshipping business. No hidden fees, and no additional monthly costs.
Key benefits of the AliDropship WordPress plugin:

Reasonable price and one-time payment
Simple interface, with no special skills required
Easy search and importation of AliExpress products
Catalogue regular auto-updates
Ready professional themes, with responsive design
Shopping cart integrated
Payment systems: credit cards, PayPal
Full ownership of the webstore
Free lifelong support and plugin updates
"AliDropship plugin solves all the issues that usually complicate the process of building and running AliExpress dropshipping stores. I am a dropshipper myself and had been waiting for a handy tool for this kind of business. After a little groundwork I discovered that no relevant plugin was available in the market, so I decided to make it myself. It did not take our team much time and efforts to create our own tool. AliDropship plugin has just passed its testing by an international dropshipping community, and now, after some minor corrections proposed by beta testers, we received 100% positive feedback. The first sales came in even before our website was ready, which was a pleasant surprise. The demand for this solution is really high," – shares Yaroslav Nevsky, AliDropship Company's CEO and co-founder.
Let us see how AliDropship plugin will change the market. Or, maybe it's better not to wait and test it right away?
About AliDropship Company
AliDropship is an international IT company working in the global market and developing solutions for AliExpress dropshipping. Its primary goal is to help dropshippers worldwide work and earn money with AliExpress. The experienced team of the company draws from diverse professional backgrounds and tailors its services to each client's individual commercial objectives. Visit alidropship.com to learn more about the Company and its products.
###