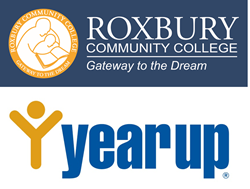 With our new location at RCC, more urban young adults will have their shot at a professional career at a top company. - Robert Dame, Executive Director of Year Up Boston
Boston, MA (PRWEB) September 13, 2016
Continuing to scale its innovative and effective approach to job training, Year Up Boston announced today the signing of the Memorandum of Understanding to launch a new Year Up location at Roxbury Community College (RCC).
The partnership between Year Up and Roxbury Community College will help meet market demand for skilled entry-level talent. Year Up Boston is also adopting a new name, Year Up Greater Boston, to reflect its expanded site locations.
"I'm excited about the opportunities that Year Up will bring to students," said Dr. Valerie Roberson, President of Roxbury Community College. "This partnership will simultaneously allow us to educate more students from our immediate service area, while providing industry-leaders with a pipeline of skilled, qualified employees. I look forward to welcoming our first cohort in the spring, and to welcoming additional cohorts over the coming years."
The first class of students will begin taking Year Up classes and college classes at Roxbury Community College this spring. The new location will allow Year Up to serve more low-income young adults in the metropolitan area, providing them with a viable path to professional careers and college completion. The free program offers six months of technical and professional skills training followed by a six-month, credit-bearing internship at a top local company.
"Through the partnership with Year Up, participants will earn college credit from Roxbury Community College while gaining the skills and competencies needed for a career in sales," said Cecile Regner, Vice President of Academic and Student Affairs. "Because our existing courses will be utilized for this program, participants who successfully complete the program will be well on their way to earning an associate's degree."
"This partnership with Roxbury Community College comes at a perfect time." says Robert Dame, Executive Director of Year Up Boston, "We are seeing unprecedented demand from over 2200 prospective students looking for an opportunity and over 50 companies looking for top talent in sales alone. With our new location at RCC, more urban young adults will have their shot at a professional career at a top company. RCC has been an amazing partner; they have been responsive and solutions-focused, and the transformations on their campus make them a jewel in the heart of Boston."
Year Up Boston is grateful to the following generous lead investors in launching our site at Roxbury Community College: State Street Foundation, Highland Street Foundation, Lynch Foundation, Wellington Management Foundation, Cushman & Wakefield, Liberty Mutual Foundation, and Income Research + Management.
Year Up Greater Boston currently serves 452 young adults each year, and plans to serve nearly 600 students annually in 2017. Since its launch in 2000, Year Up has helped more than 14,000 young adults (ages 18-24, without college degrees) gain in-demand technical, professional and communication skills in areas such as Information Technology, Sales, Financial Operations, Quality Assurance, and Data Analytics. More than 85 percent of Year Up Greater Boston's graduates are employed or attending college full-time within four months of completing the yearlong program, with an average starting salary of $36,000/year. Learn more about Year Up Greater Boston by following us on Twitter @YearUpBoston and on Facebook.
About Year Up Inc.
Year Up's mission is to close the Opportunity Divide by providing urban young adults with the skills, experience, and support that will empower them to reach their potential through professional careers and higher education. Year Up achieves this mission through a high support, high expectation model that combines marketable job skills, stipends, internships and college credits. Its holistic approach focuses on students' professional and personal development to place these young adults on a viable path to economic self-sufficiency. Year Up currently serves more than 3,000 students a year at sites in Arizona, Atlanta, Baltimore, Boston, Chicago, Jacksonville, the National Capital Region, New York City, Philadelphia, Providence, Puget Sound, San Francisco Bay Area, and South Florida. To learn more, visit http://www.yearup.org or http://www.youtube.com/yearupinc.
About Roxbury Community College
Founded in 1973, Roxbury Community College (RCC) is a comprehensive, multicultural, urban, student-centered, an open-access community college. An Achieving the Dream Leader college accredited by the New England Association of Schools and Colleges (NEASC), RCC offers an associates in arts degree program, an associates in science degree program, certificate programs, online courses, various corporate and community education programs and lifelong learning programs. Located at 1234 Columbus Avenue, our 16-acre, 6 building campus houses classrooms, specialized science and computer laboratories, the Library and Learning Center, an on-site day care center, the Reggie Lewis Track & Athletic Center and the Media Arts Center.