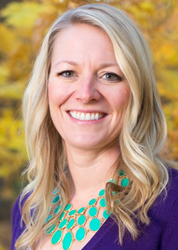 Mount Horeb, WI (PRWEB) September 14, 2016
Dr. Angela Cotey celebrates Self Improvement Month this September by offering information and treatment plans for patients with missing teeth in order to raise awareness for the dangers of leaving tooth loss untreated. She works with individuals to identify and customize their ideal restoration options and is now accepting new patients for dental implant placement without a referral. People who opt for dental implants in Mount Horeb, WI, enjoy the oral health and aesthetically pleasing benefits of a permanent, natural and fully functional tooth replacement.
Although replacing missing teeth with dentures can provide immediate advantages such as an elevated self-confidence and sometimes the ability to eat normally again, it is not able to address greater oral health issues. Under the surface of the gums, another, much more serious problem develops. Natural tooth roots stimulate bone growth with every chewing motion, however, without that stimulation, the jaw bone begins to degrade. If left untreated, this process can cause additional teeth to fall out and the entire facial shape to change.
Dr. Cotey often recommends dental implants in Mount Horeb, WI, as a better alternative to removable dentures. Using advanced, three-dimensional Cone Beam CT imaging, she locates the nerves, bone and other structures in the face so she can develop a customized treatment plan that maximizes the success of the implant. Then, she surgically places a titanium post into the empty socket, where it mimics the function of the original root. The implant and bone fuse, which prevents the tooth from becoming loose while creating the stimulation that the jaw needs for optimal health. Once the healing process is complete, the new tooth should be cared for with regular brushing, flossing and professional dental cleanings.
People with missing teeth in Mount Horeb, WI, can learn more about how dental implants improve quality of life and oral health by visiting Dr. Cotey's website at http://www.villagesmilecare.com, or by calling (608) 433-2102 to schedule an appointment for a consultation.
About the Doctor:
Dr. Angela Cotey is a general dentist offering personalized dental care to patients in Mount Horeb, WI. Dr. Cotey and her entire team take pride in offering the latest advancements in dentistry and dental technology to ensure each patient enjoys a comfortable experience with long-lasting results. Dr. Cotey combines advanced dentistry with a fun and friendly style. She is a member of numerous professional organizations including the American Dental Association, the Wisconsin Dental Association, American Academy of Cosmetic Dentistry, Fellow in the Academy of General Dentistry and current President of the Wisconsin Dental Study Club and Madison Dental Progress Forum. To learn more about Dr. Cotey or the services she offers, please visit her website at http://www.villagesmilecare.com or call (608) 433-2102 to schedule an appointment.