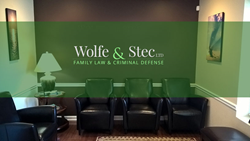 Accessibility and transparency are important qualities for a law firm to demonstrate to their clients.
Chicago, IL (PRWEB) September 10, 2016
Illinois law firm Wolfe & Stec, Ltd. have launched their new website to assist families and individuals who need legal assistance. The firm said they view their website as an extension of their principles and the services they offer their clients.
"We urge people to learn as much about attorneys as possible before they retain their services," said Natalie Stec. "Through our website, we provide examples of our previous work and the results we've achieved for our clients. We also give what we believe are great resources for those who want to learn more about their legal needs so they can be as informed as possible."
The website highlights the firm's legal services, testimonials from clients, attorney biographies and a blog centered on family law and criminal defense, two focus areas of Wolfe & Stec's practice. Potential clients can also reach out to the firm through their website to receive a free consultation on their case.
"Accessibility and transparency are important qualities for a law firm to demonstrate to their clients," said Marc D. Wolfe. "Our criminal justice system poses serious problems for many Illinois residents. We believe that the attorney-client relationship shouldn't be plagued with the same hurdles. Our website reflects the personalized attention, responsiveness and creativity that we strive to offer our clients."
Partner Marc D. Wolfe has been practicing law for over 30 years, trying over 300 cases to verdict in his three decades of criminal defense. He is a graduate of the University of Denver and the John Marshall Law School.
Partner Natalie M. Stec has focused on significant pre- and post-decree marital and family law cases since beginning her legal career in 2000. Stec studied law abroad at the University of Manchester in Manchester, England, and is a graduate of the University of Illinois and the New York School of Law.
Partner Amy Lynn Riley concentrates her work on criminal and family law, having previously worked at McDonough County State's Attorney's office. She is a graduate of Aurora University and the Thomas M. Cooley Law School in Michigan.
The firm has offices in Chicago and Woodridge, Ill.
About Wolfe & Stec:
The law office of Wolfe & Stec, Ltd., handles criminal defense and family law cases in Illinois. They offer free initial consultations and schedule appointments at either of their locations, in Woodridge and Chicago. To contact Wolfe & Stec, call 630-305-0222 or 312-388-7882 or visit them online at http://www.wolfeandstec.com/.