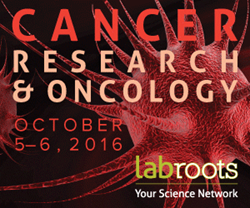 Yorba Linda, Ca (PRWEB) September 13, 2016
With the brightest minds dedicated to better understanding the intricacies of cancer and effective ways to prevent and cure it, wouldn't it be great to have a venue where lively exchanges can take place—without great cost or time off from work for presenters and attendees?
LabRoots, the premier provider of interactive virtual events for life sciences and clinical diagnostics professionals, will soon present its annual conference highlighting recent advances.
At Cancer Research & Oncology 2016, a two-day event presented entirely online, experts will highlight the multidisciplinary approach for the prevention, diagnosis, and cure of cancer. Internationally recognized thought leaders in cancer research will discuss the latest discoveries in cancer mechanics and detection, and clinical aspects such as targeted therapies and novel treatments. Attendance is free.
This premier cancer research conference makes it easier and more cost-effective for the global cancer research community to come together online to learn about recent advances in cancer research. The conference has proven to be a great success in disseminating knowledge and encouraging collaboration and connections between colleagues, who need not travel further than their desk, bench, or smartphone to attend.
Interactive live-streaming sessions will include question-and-answer sessions, and participants can earn free Continuing Education (CE) and/or Continuing Medical Education (CME) credits.
The event will be held from October 5 to 6, 2016.
Topics include Innovations in Cancer Immunotherapy, Targeted Precision Cancer Therapies for Advanced Disease, Detection of Rare Cancer Mutations and Implications for Treatment, and Novel Systems to Monitor Disease and Better Predict Clinical Outcomes for Cancer Patients. Mini-symposiums on prostate cancer, breast cancer, brain cancer, and the kRAS initiative will be offered.
For more information about Cancer Research & Oncology 2016, continuing education credits, and to register, visit the LabRoots website. Use #LRcancer to follow the conversation.
About LabRoots:
LabRoots is the leading scientific social networking website and producer of educational virtual events and webinars. Contributing to the advancement of science through content sharing capabilities, LabRoots is a powerful advocate in amplifying global networks and communities. Founded in 2008, LabRoots emphasizes digital innovation in scientific collaboration and learning, and is a primary source for current scientific news, webinars, virtual conferences, and more. LabRoots has grown into the world's largest series of virtual events within the Life Sciences and Clinical Diagnostics community.