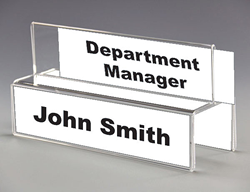 Plastic Products Mfg. introduce next generation Name Plate Holders
Yorba Linda, Ca. (PRWEB) September 13, 2016
Plastic Products Mfg (PPM) is pleased to introduce next generation Name Plate Holders in three dynamic styles: the PNHT4, PNHT2, and PNHG Series. Each line has its own unique attributes, and all are made of Plastic Products Mfg's most durable new premium thickness acrylic that's tough yet lightweight.
New PNHT4 Name Plate Holders feature 92% light transmission and never get discolored or faded. These aesthetically appealing Partition Name Plate Holders are easy to install, straight out of the box with no tools required. Style PNHT4 slides easily right over cubicle walls without damaging the cubicle itself, making them easy to re-use and relocate.
Another new element is in the design itself. Note the crystal clear new space for name and title inserts, all part of an innovative Double-Sided 4-Way Top View. Custom sizes can be accommodated by request; simply specify PNHT4 with your Name Plate Holder order.
Multiple size options and an easy view are also standard with Plastic Products Mfg's PNHT2 Series Partition Holders. These quality Name Plate Holders are easily interchangeable when moving is necessary. That makes them simple to re-use with no pins, tapes, or Velcro required. PNHT2 Name Holders are long-lasting and a wise investment as a result.
Best of all, new PNHT2 deliver true Double-Sided Top View aesthetic appeal for any décor, a strong characteristic in clear acrylic. Custom PNHT2 configurations can also be quoted immediately.
For those in the market for a Partition Name Plate Holder for a glass partition, the PNHG Series makes an ideal option. Available in many sizes, PNHG offers a distinctive look in Single-Sided Name Plate Holders. A narrower depth is geared to accommodate glass partitions that are generally thinner than standard cubicle walls, showcasing names, titles, or other pertinent information. The sturdy design makes PNHG Partition Name Plate Holders virtually indestructible and a solid addition to busy workspaces.
Online ordering is now available on all three new Plastic Products Mfg lines. Additional specifications and questions are also welcome on PNHT4, PNHT2, and PNHG Series Name Plate Holders.
Backed by Plastic Products Mfg's exclusive Customer Bill of Rights. For more than 30 years, Plastic Products Manufacturing has specialized in manufacturing and distributing Sign Holders, Brochure and Literature Holders, Poster Holders, Donation Boxes, Point-of-Purchase and Custom Acrylic Displays. We live and work in a visual world PPM knows that showing you at your best only enhances your image. Plastic Products Mfg. makes a big effort to making your business look good. What separates PPM from competition is how they go the extra mile.