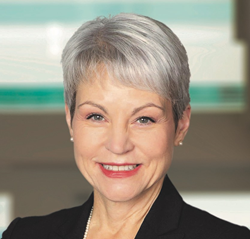 "We're committed to supporting higher education leaders as they grapple with new accountability measures and support strategies that can dramatically improve student outcomes."
Redwood City, CA (PRWEB) September 12, 2016
Today, Fidelis Education announced the appointment of Sharon van Wyk, Ph.D. as Managing Director. In this role, Dr. van Wyk will accelerate Fidelis Education's fast-growing higher education business and expand learning relationship management consulting and services to new markets.
Fidelis Education partners with colleges and universities to improve student success, retention and completion. Students and their advisors, mentors, and faculty use Fidelis Education's Learning Relationship Management (LRM) software to accelerate student success by clarifying the purpose of their education, creating a clear path to achieve their objectives with support from their coaches, mentors and faculty, and connecting with like-minded students, faculty, alumni and potential employers through virtual communities. Students receive the guidance they need to stay on track to achieve their goals and use the LRM to share online portfolios and micro-credentials. Advisors use the LRM's system of alerts and tools to personalize support to individual students. Institutions gain insight into methods of scalable support that accelerate achievement for different types of learners and, with the student's permission, prospective employers can see student's interests and accomplishments which can distinguish students from other internship and full time employment candidates.
"Students who have the 3 P's, a compelling and motivating purpose, a clear path to achieve their purpose, and a support network of people succeed with fewer setbacks in school, life and their careers. Leading academic institutions are partnering with Fidelis Education to adopt LRM to help every student benefit from the 3 P's, provide students with critical front-line support at their point of need, and share unprecedented insights on combinations of factors that contribute to student achievement with faculty and institutional leaders," said van Wyk. "We're committed to supporting higher education leaders as they grapple with new accountability measures and support strategies that can dramatically improve student outcomes."
Dr. van Wyk brings over 25 years of experience leading improvement initiatives in corporations, higher education institutions, and military related organizations. She previously served as President and Chief Operating Officer of Tutor.com and The Princeton Review where she further integrated and streamlined the companies to provide more effective student support and positioned the companies for growth. Dr. van Wyk also served as Executive Vice President and Chief Operations Officer at American Public University System, where she led the transformation of online admissions and student services to be student centric and scalable to support 110,000+ students around the world. Prior to her role at American Public University System, she held business and education executive leadership roles at Intuit, Genworth, GE and Accenture. Dr. van Wyk began her education career as a community-based 4-H Youth Agent and faculty member for University of Wisconsin-Cooperative Extension and she also served an adjunct professor for the Executive MBA program at the University of Connecticut Business School. Dr. van Wyk has been an advisor to the Bill and Melinda Gates Foundation on education technology and courseware investments and was a charter member of the Bill and Melinda Gates Personalized Learning Network. She is currently appointed by the U.S. Secretary of Transportation to chair the Advisory Board to the U.S. Merchant Marine Academy.
"We are thrilled to have Sharon join our leadership team at Fidelis Education," said CEO Gunnar Counselman. "With her wide-ranging leadership experience in higher education and business, Sharon will play a critical role in guiding our efforts to partner with leading colleges and universities to help every student achieve their potential."
Dr. van Wyk holds a Ph.D. in Instructional Systems and an M.S. in Instructional Systems from Florida State University. She earned a B.S. in Communication from the University of Wisconsin-Stevens Point. Her post-doctoral studies include certificates from the GE John F. Welch Leadership Development Center and the Harvard Institute of Education Management and she has attended the invitation only, U.S. War College National Security Seminar.
In addition to her extensive leadership experience, Dr. van Wyk possesses several process improvement certifications including Six Sigma Instructor and Master Black Belt.
About Fidelis Education
Fidelis designs intuitive technology that makes it easy for students to discover, navigate, and take advantage of the student success services colleges and universities already offer – and introduce best practices that keep them coming back. Higher education institutions implement our software, which is used by over 100,000 students each year, to coordinate and measure the impact of student services, including academic tutoring, mentoring, and career planning. For more info, please visit http://www.fideliseducation.com.