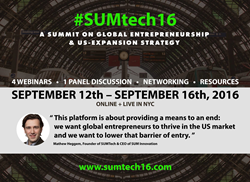 This platform is about providing a means to an end: we want our global entrepreneurs to thrive in the US market and we want to lower that barrier of entry.
New York (PRWEB) September 09, 2016
Accounting management and consulting firm SUM Innovation is gearing up to host its third annual summit for thought leaders and entrepreneurs September 12-15 in New York City.
#SUMTech16 includes an entire week of content designed to support global entrepreneurs. The latest iteration of the summit will focus on what it takes to succeed as a global entrepreneur and strategies for making U.S. expansion a reality for more international startups.
"Whether you're looking to hire your first U.S. salesperson or want to move your operations into the States, we're certain you'll gain the insights necessary to expand. Ultimately, this platform is about providing a means to an end. We want our global entrepreneurs to thrive in the U.S. market, and we want to lower those barriers of entry," says Mathew Heggem, founder of SUMTech and CEO of SUM Innovation.
The event represents an expansion from the 2015 summit, when SUM Innovation hosted its signature panel discussion and a series of supplementary webinars. This year's summit is set to include four webinars, networking events, and a panel discussion with SUM Innovation's International Advisory Committee. The company has also partnered with the European American Chamber of Commerce, BDP International, Blue Marble Payroll, and the Institute of Certified Bookkeepers to help support the summit.
Featured speakers this year include Steve Maggi, a U.S. immigration attorney with SMA Law Firm; Anne Wolfson, a corporate legal attorney with Anne Wolfson PLLC; Maia Spilman, an information privacy and intellectual property attorney with The Law Office of Maia T. Spilman; Simon Brady, a personal finance adviser with Anglia Advisors; and Dale Mason with The Wolf Group. Heggem and Alex Tahan, SUM Innovation's senior-level finance and accounting adviser, will also speak during the summit.
Live festivities kick off at 6:30 p.m. on September 12 with a casual networking event in SUM Innovation's main office at 40 W. 27th St., Floor 5, New York, NY. Admission to the networking event is $20.
The main attraction of the summit — an advisory panel and Q&A session — is set for 6:30 p.m. on September 14 in the Grind co-working space at 140 West St., Floor 2, New York, NY. Heggem will moderate the panel, which will focus on global entrepreneurship and strategies for expanding into the U.S. Admission to the panel is $35.
An all-inclusive pass for the summit's in-person events is $45, but anyone is able to attend the online webinars free of charge. One daily webinar will be held at 12:30 p.m. EDT September 12-15, covering everything from the tax landscape in the U.S. to growth metrics and accounting. Attendees can purchase tickets for live events in advance or stream the webinars at here.
About SUM Innovation
SUM Innovation is an accounting management and consulting firm on a mission to help its clients grow. Its dynamic team of experts assesses, designs, implements, and manages accounting solutions for fast-growth startups, international businesses, established and growing businesses, and nonprofits across the U.S. by leveraging its outsourced accounting department and its training and staffing services. SUM Innovation has worked with more than 550 clients in 35 industries and aims to be a continuous leader in the industry.