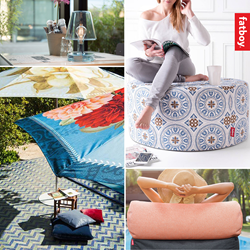 Dallas, TX (PRWEB) September 09, 2016
Fatboy® USA recently announced the launch of several new home décor items in their line of iconic products. The innovative home and outdoor living lifestyle brand will introduce six new designs: The Fatboy® Bouqetteketet and Parasolasido, Fatboy® Stripesol, Fatboy® Pfffh, Tsjonge-Jonge, Avenue, Lampie-On and the Lampie-On Deluxe, in Fall 2016 to accompany the Fatboy® Tsjonge-Jonge and Fatboy® Avenue collections.
"Fatboy is all about creating inviting indoor and outdoor spaces with a spark of uniqueness and creativity," said President and CEO of Fatboy USA, Paula Masters. "We are positive the new Fatboy outdoor collections will live up to the prolific and compelling collections we have previously launched."
Fatboy USA's new line of parasols fit perfectly in lush gardens and urban areas. The umbrellas can be used indoors and outdoors and have a convenient pulley mechanism, so they unfold in an instant. The Stripesol - the original oversized umbrella with stripes inspired by parasols from the 50s - is available in six colors with an optional base. The Parasolasido and Bouqetteketet patterned parasols were created exclusively for Fatboy by Dutch graphic artist Saskia van der Linden. The vintage and romantic designs are full of unique flowers, butterflies and birds.
The latest seating options from Fatboy USA offer the perfect combination of comfort and style. The Pfffh, Tsjonge-Jonge and the Avenue are suitable for indoor and outdoor use and are a great addition to any space. The Pfffh is a floor pouf that seats two people and is available in four different colorful prints. The Tsjonge-Jonge chaise lounge and the Avenue ottoman are both made of soft Sunbrella fabric that is available in a variety of colors and prints.
The Lampie-on is a wireless lamp that is designed for indoor and outdoor use – it is perfect for decorating rooms, gardens, pools and parties. The lamp needs physical movement to influence the light, like with ancient oil lamps. The Lampie-on is available in a deluxe variety with three different copper sleeves with intricate details.
The new products will be available on http://www.fatboyusa.com and at retailers around the U.S. this fall.
If you'd like more information about Fatboy, please visit fatboyusa.com and facebook.com/FatboyUSA or email lauren(at)droesepr(dot)com.
###
About Fatboy USA:
Fatboy® is an imaginative lifestyle brand that excels in thinking outside the box. Fatboy has been challenging the concepts of lifestyle products since 2002, when it set out to create the perfect lounge chair— designed for fashion, for comfort, and tailored for an unmatched lounging experience. Today, Fatboy brings energizing comfort and smiles to people in over fifty countries worldwide with a growing line of lifestyle products. Their identity is anchored in iconic European design mixed with a creative spirit and a sense of humor that extends into all of their product offerings. Fatboy is known for creating iconic products with a simple yet compelling idea. Fatboy's philosophy from birth is to design captivating product to evoke an authentic change in people's minds for the better through the experience they have with their lifestyle product.