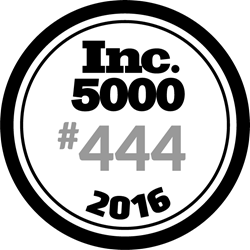 We believe that appearing on the Inc. 5000 list is a great honor; nothing short of an amazing accomplishment.
Ontario, CA (PRWEB) September 12, 2016
RNG Group Inc. (Renogy), a solar manufacturer and retailer, has just been ranked as the 444th fastest growing business in America by Inc. Magazine.
Located in Ontario, California, the Renogy office-headquarters are conveniently situated in a bustling business district of San Bernardino County. Hardly a stranger to solar power and alternative energy, Southern California has been a backdrop for several solar startups over the past two decades. California's moderate climate and abundance of sunlight constitutes the ideal location for the housing, testing, and selling of solar products. For that very reason, it comes as no surprise that Renogy chose to relocate to the Golden State from Louisiana in 2013. Since the transition, business has amplified exceptionally over the past few years. On August 17th, Inc. Magazine awarded Renogy with a coveted slot in the top 5000 Fastest Growing Companies in America.
Inc. Magazine has been growing strong for thirty-seven years, ranking private American businesses, specifically, in revenue growth during a three-year period. In 1982, Inc. came up with its first "500 Fastest Growing Companies" list. Later, Inc. expanded its rankings to "5000 Fastest-Growing Companies" list and also extended the reach to companies in Europe. With a three-year growth rate of 864%, and a 2015 company record of $18.9 million in revenue, Renogy had qualified for this prestigious award. According to Inc.'s rankings, the energy category experienced the fastest overall growth rate at an average of 227.7%. Filled with familiar faces, Renogy joins several other companies such as Dollar Shave Club, Suja Juice, MacStadium, BigRentz, and more on the reputable list. As stated by Renogy's CEO, Dr. Yi Li, "We believe that appearing on the Inc. 5000 list is a great honor; nothing short of an amazing accomplishment."
For those unfamiliar with Renogy, it began as an idea amongst a small group of students at Louisiana State University. In 2010, Dr. Yi Li, a physics PhD student, established and operated Renogy LLC (now RNG Group Inc.) from her Baton Rouge apartment. Early on, she sold solar products such as solar panels and renewable energy accessories through Amazon and eBay. Nearing the end of 2012, with four part-time employees, the company had moved its operations into a modest office-warehouse and launched its very own website, renogy-store.com (now renogy.com). Like many new online retailers, the first few months were particularly passive; however, revenue grew exponentially with advertising through word of mouth and regular appearances at tradeshows. It did not stop there; Renogy solar products were also sold on premium online retail outlets including Tool King, Newegg, Walmart, and Overstock. To quote the company CEO, "Renogy started out as a modest venture with limited resources and cash flow. We made the best out of what we had and utilized our resources at LSU to grow this business." Renogy is a true start up, operating without the assistance of a parent company or mass funding.
In May of 2013 Dr. Li graduated from Louisiana State University with a PhD in Physics and left Baton Rouge for a post-graduate life in Southern California. That same year, Renogy was incorporated as RNG Group Inc. and hired ten new employees to work at the new 11,000 square-foot Chino, California office-warehouse. Through 2014, Renogy experienced a 400% growth in sales on renogy-store alone by branching its sales base beyond direct consumers and online marketplaces to installation professionals, entrepreneurs, and distributers. As a result of tremendous success in 2014, RNG Group Inc. continued to hire several new employees. By late 2014, Renogy's solar product lines developed from traditional solar panels and accessories to portable battery packs and panels.
2016 can be described as a remarkably great year for Renogy from receiving awards to creating new solar products. This year the company has developed a state of the art portable solar generator, the Lycan Powerbox. The Lycan is a portable solar storage solution that puts abundant, natural energy right at the tips of your fingers. Lighter than the competitor's products, the Lycan is particularly unique because it features a removable and replaceable lithium-iron-phosphate battery that can withstand 2000 cycles. The Renogy sales team has yet to see the total revenue that 2016 with bring, but at this point sales are exceeding expectations.
Essentially, Renogy started out small and is continuing to flourish without any end in sight. The product line expansion into portable solar generators is particularly promising, considering the demand for gas powered alternatives and quiet power generation. Dr. Li and the rest of the Renogy team are working hard to make sure that Renogy becomes a household name. Setting all goals and aspirations aside, Renogy finds both honor and appreciation in the recent Inc. 5000 award. It confirms that the assistance of Louisiana State University and the hard work of all the employees and consumers have, and will, continue to make a difference. To quote the internal operations manager, Shan Patel, "The sky is the limit and we are training for success." Renogy would like to thank Inc. Magazine for acknowledging all the hard work, and would also like to thank all of the employees and customers that have made this business a great success.