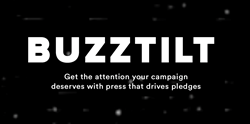 We view ourselves first and foremost as a creative agency. It is this founding aspect that inspires everything we do while working with crowdfunding campaigns.
(PRWEB) September 09, 2016
Buzztilt, the world's leading crowdfunding PR and marketing agency, is taking a creative storytelling approach to get crowdfunding campaigns featured on top media outlets.The company has recently announced a new select and exclusive application process for aspiring crowdfunders.
Having assisted hundreds of successful crowdfunding campaigns get featured on the world's top media outlets including Buzzfeed, Wired, Mashable, FastCompany, CNET, the Huffington Post, and more; crowdfunding campaigns are increasingly turning to Buzztilt's creative approach to crowdfunding success. Crowdfunding is one of the fastest growing industries worldwide and crowdfunding services such as those being offered by agencies such as Buzztilt are increasingly being used by aspiring campaigners.
"We view ourselves first and foremost as a creative agency," says executive media manager Mark Winters. "It is this founding aspect that inspires everything we do while working with crowdfunding campaigns. PR has always been more of an art than science and this is extremely true for crowdfunding. While competing agencies tend to take a tech based black and white focus to crowdfunding, we've differentiated ourselves in the market with a creative, design-based approach."
Buzztilt is the agency behind some of the most viral crowdfunding campaigns to hit Kickstarter and Indiegogo in recent years and they credit much of their success to a client-focused style that places a high priority on storytelling and heavily vetting potential clients. The company says that as they've grown and become more known in crowdfunding circles, they've had to become more selective on the clients they take on.
"By carefully choosing and vetting the potential clients we take on, we're able to achieve a high level of success. We know which campaigns will play well with certain reporters and media outlets and we're able to carefully match the project to those looking to tell their story. Often during a campaign, there are several storylines that arise and we're able to utilize multiple angles to flesh out stories and drive momentum," adds Winters.
In recent years, crowdfunding has evolved from something independent entrepreneurs could easily find success with simply as a result of being featured on a crowdfunding platform, into something more resembling a full blown production that takes months of preparation and planning as well as an adequate budget. An independent analysis estimates that only 9.3% of projects on Indiegogo and 44% on Kickstarter get funded, leaving for staggeringly high failure rates for most projects that are submitted to one of the two crowdfunding platforms.
Buzztilt is one such company hoping to do everything they can to help crowdfunders beat the odds. Aspiring startups, entrepreneurs, and companies hoping to find crowdfunding success are encouraged to apply at http://www.buzztilt.com
About Buzztilt
Buzztilt is the Leading Global Crowdfunding PR and Marketing Agency for Crowdfunding Promotion. With years of Public Relations and Marketing experience and connections in the industry while working with some of the largest consumer brands in the world, no other crowdfunding PR firm can match their expertise or reach.