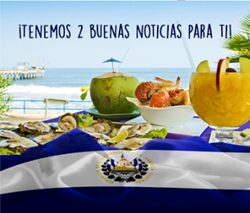 Atlanta, Georgia (PRWEB) September 11, 2016
September 15th is not only Independence Day, but also the beginning of the Heritage month, so a great opportunity for all Salvadorans to show their national pride. When living abroad, a long call home can help people feel the magic of the national pride, that's why LlamaElSalvador.com offers its customers special rates to call El Salvador on Independence Day.
Salvadoran expats who call Claro landlines in El Salvador will pay 9.9¢/min instead of 10.9¢/min, the ones calling mobiles and landlines in El Salvador will pay 9.9¢/min instead of 16.9¢/min, the standard rate.
Besides the special offer, LlamaElSalvador.com prepared a Facebook contest which challenges Salvadoran expats to share what they miss the most about El Salvador. The contest starts on September 13th and lasts until September 15th. The winner will be randomly selected and will receive $10 free Voice Credit.
The Voice Credit purchased from LlamaElSalvador.com can be used to place international calls from:
1. any phone through the use of access numbers,
2. from any computer with an Internet connection through the Web Call application or
3. from any smartphone as LlamaElSalvador.com offers a free app, for both iOS and Android devices, called KeepCalling. By using the free app, customers can make calls by using their phone contacts as long as they are saved in international format.
In addition to the international calling service, LlamaElSalvador.com also offers its customers Mobile Recharge, a service through which customers can recharge phones anywhere in the world. The process is fast and secure and the credit reaches its destination instantly.
Customers express their opinions about LlamaElSalvador.com and its offers on TrustPilot, an international review website. One of them says 'Extremely pleased with service, reliable, clear, fast, trustworthy. I have used LlamaElSalvador.com for a few years, and have always experienced a great service, affordable rates, clear communications, able to provide my relatives with minutes on their phones with bonuses that enhance their value.'
All LlamaElSalvador.com promotions and offers can be found on their Facebook page: Facebook.com/LlamaElSalvador.
About LlamaElSalvador.com
LlamaElSalvador.com is an interactive website designed by KeepCalling, a global telecommunications company registered in 2002 in USA. KeepCalling provides its services to hundreds of thousands of consumers and businesses, with a focus on customer satisfaction. In 2014, Inc. Magazine listed KeepCalling as the 18th fastest growing company in the telecommunications industry in US.