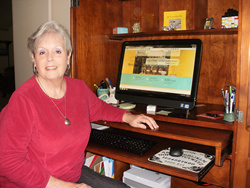 Pinellas County, FL (PRWEB) September 13, 2016
Patricia Seabury had a successful career as an archeologist and once found the remnants of a ship while participating in a dig along a riverbank in New York, before cancer threw her a curve. She was diagnosed with Hodgkin's Lymphoma, a cancer of the lymph tissue. After going through treatment, she was accepted for social security disability insurance, but Patricia wanted to go back to work. Now, with help from Vocational Rehabilitation (VR), a federal-state agency that helps people with disabilities get or keep a job, Patricia works part-time doing food demonstrations at her local Sam's Club.
After Patricia finished her cancer treatments and began her road to recovery and remission, she found that she no longer had a job and a new one was difficult to find. That's when she came to VR for help. She met with VR Counselor AnnaMarie Grandmont, and together they came up with a plan for Patricia's employment.
AnnaMarie referred Patricia to job coach Angus Black of the Grow Group to help with her job search. After working with Angus for a few months, Patricia found a part-time job as the social media administrator for Groovy Cats & Dogs, a Holistic Pet shop in Tampa. When ownership of the store changed hands, Patricia decided to further pursue her side job at Sam's Club.
Patricia has worked at Sam's Club for four years now and enjoys her food demonstrating job. She plans to continue working as long as she can stay healthy. As her physical tolerance has increased so have her work hours. "These demo jobs can be done forever," she says. "I don't see any reason not to work, and I'm just appreciative of the work. It's not as taxing as my permanent job was, and I think it's interesting."
She has also gone back to her archeological roots and is volunteering once a week at AWIARE, the Alliance for Weedon Island Archaeological Research in St. Petersburg. "I have enjoyed getting back into archeology," she says. She also volunteers with the supervisor of elections.
Patricia is grateful for the VR services she received including counseling and guidance and a new computer that helped her manage her first job at Groovy Cats & Dogs. "I was so humbled by it," she says. "I didn't think these kinds of resources were available. This really enabled me to take the job and do the work."
Patricia has said that one of the best things to come out of her cancer was finding VR. "The compassion from AnnaMarie was wonderful. She really knows what she is doing," Patricia says. "After getting over cancer, and it was the biggest change of my life, it turned out to be very positive, and I give a lot of credit to VR for that."
AnnaMarie is proud of Patricia and how far she's come. "Patricia was very pleased that VR was able to help her find work and increase her independence," she says. "She was definitely one of the most motivated VR customer's I have ever met. She is someone who spreads joy regardless of her circumstances, and it was a pleasure to work with her."
About Vocational Rehabilitation
Florida's Vocational Rehabilitation (VR) is a federal-state program committed to helping people with disabilities become part of America's workforce. The employer-focused website, https://abilitieswork.employflorida.com/, allows businesses to search at no charge for employees who are ready to go to work, as well as to post available jobs. VR has 90 offices across Florida, and last year helped 5,760 Floridians with significant disabilities find or keep a job. For more information about VR and its services, call (800) 451-4327 or visit http://www.Rehabworks.org.