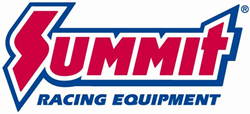 Tallmadge, OH (PRWEB) September 12, 2016
Summit Racing now carries C&R Racing OE-Fit Extruded Tube Radiators. The radiators' unique race fin construction and aluminum core made from extruded tubing gives them a 100 PSI burst rating, more than triple that of any other performance aluminum radiator on the market today.
C&R developed its race fin design with help from Formula 1 and NASCAR teams. The radiator fins feature cross-bracing and a unique hemmed edge to increase rigidity. Real-world track use showed that the radiators could sustain significant damage without puncturing, allowing vehicles to finish races that would have otherwise resulted in a DNF.
C&R Racing uses a single, continuous piece of extruded tubing to make the radiator cores to eliminate the air gap found in standard cores. This increases the tube-to-fin contact area to improve heat transfer. In fact, C&R did extensive wind tunnel testing and found that extruded tubing made the radiator cores 15 percent more efficient versus cores using standard rolled tubing.
C&R Racing Extruded Tube Radiators are sold individually or packaged in a module with a Spal electric fan module. Each radiator is precision manufactured with mounting tabs in the factory locations to ensure an OE fit. Every radiator includes a billet filler neck, petcock, and all necessary fittings.
Several vehicle applications are available, including popular Ford Mustang, Chevy Camaro/Pontiac Firebird, Chevy Chevelle, and Jeep Wrangler models.
Summit Racing Equipment
http://www.summitracing.com
1-800-230-3030