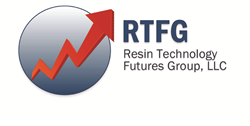 Fort Worth, TX (PRWEB) September 16, 2016
This informative webinar is sponsored by RTFG, a provider of innovative risk management solutions for the plastics industry. Participants of the webinar will be introduced to the reasons why hedging plastics could be beneficial to a company's risk management program. Key strategies for managing cost volatility of plastics through hedging will also be shared. VanPutte, who is a leading expert in the plastics industry, has developed a comprehensive financial resin hedging program for managing price volatility in the polypropylene and polyethylene markets. The program encompasses market tracking, forward pricing curves, feedstock-to polymer correlations and hedging strategies.
"The lack of transparency and the volatility of resin pricing is a top concern for most end users of plastics," said VanPutte. "By not managing that volatility, by just riding the rollercoaster and buying as you need at the price, at the time, you've already decided unconsciously to accept price risk. If you have difficulty managing your sales price and meeting your budget on costs, you need a new tool."
Companies who currently derive price - risk management benefits from hedging other commodities may benefit from tapping RTFG's insight into the resin and plastics markets. For more information and to register for this complimentary webinar, visit http://www.rtfuturesgroup.com/webinar. The event will also be recorded and available for on-demand viewing.
RTFG's new website (http://www.rtfuturesgroup.com ) is the most recent demonstration of RTFG's ongoing commitment to providing clients access to plastic hedging strategic solutions and advisory services. RTFG draws on the expertise of its affiliate company, RTi, a technical network of plastic and paper resources that spans the globe. RTi, with more than 20 billion pounds of transactional benchmarks, has the ability to infuse technical expertise and market intelligence to bring transparency to the resin and paper markets, delivering strategic solutions to managing costs
About RTi:
RTi provides clients with strategic solutions to managing cost – deep domain expertise in paper and plastic raw materials, as well as packaging conversion economics. RTi uses a proprietary process that delivers total transparency to the value chain from raw material through supplier conversion that empowers our clients with the technical knowledge they need to maximize category value. In addition to driving sustainable cost savings for resin and paper procurement, Resin Technology Futures Group, LLC (RTFG) enables its clients to mitigate risk with programs to achieve resin pricing predictability. For more details: http://www.rtfuturesgroup.com or call 817-569-0252
The risk of trading futures and options can be substantial. All information, publications, and reports, including this specific material, used and distributed by Resin Technology Futures Group shall be construed as a solicitation. RTFG does not distribute research reports, employ research analysts, or maintain a research department as defined in CFTC Regulation 1.71. This website contains information obtained from sources believed to be reliable, but accuracy is not guaranteed by RTFG.