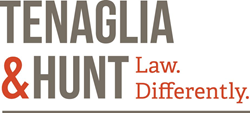 ...we are meeting the demand for legal services by today's small and medium-sized business by offering affordable, flexible and scalable fee arrangements through our OnDemand Legal services packages.
ROCHELLE PARK, N.J. (PRWEB) September 13, 2016
Small and medium-sized businesses now have flexible, more affordable options for engaging legal services or enhancing their existing in-house counsel with OnDemand Legal™ Subscription Services from Tenaglia & Hunt, PA. The new model of delivery of legal services—a true innovation in the legal field—enables companies to contract on a monthly basis for a prepaid number of hours at a fixed fee or set budgets for legal services and projects. In addition to the many legal services it offers at a preset rate, OnDemand Legal comes with a full suite of unified communications features via an online client dashboard. These features provide transparency into billing, as well as tracking of legal matters and activities, an interactive calendar, task lists, document sharing, collaboration and messaging.
"There have been major shifts in the legal industry since the recession which have resulted in corporate clients migrating away from the billable hour model," said John J. Tenaglia, managing partner of Tenaglia & Hunt. "In response, we are meeting the demand for legal services by today's small and medium-sized business by offering affordable, flexible and scalable fee arrangements through our OnDemand Legal services packages. Unlike other online legal services which offer document templates and an off-the-shelf approach, we have developed a revolutionary way to offer personalized, true legal counsel for today's business owner."
A recent study by the Association of Corporate Counsel discovered that 77% of its in-house law department members prefer alternative billing arrangements for work handled by outside counsel, rather than the traditional billable hour. These arrangements include flat rate pricing for certain tasks, monthly retainers, and project management-style fee arrangements.
Partner James T. Hunt, Jr. said his firm is also responding to concerns it has heard from business owners and their in-house counsel regarding the traditional outside legal counsel approach. These range from poor communication to expensive, "nickel-and-dime" billing practices, which make attaining expert legal advice too costly for many small businesses.
"Especially for startups or smaller companies, access to legal counsel can quickly break a budget with the traditional billing model, and hiring in-house legal counsel might not be feasible," said Hunt. "But regardless of their size, these businesses still have genuine needs for legal counsel and services. With OnDemand Legal Services, corporate clients can now be proactive about their budgets for legal services, have greater access to counsel on an as-needed basis, and enjoy improved collaboration with outside, top-notch counsel with the client dashboard."
Three tiers of on-demand legal services
OnDemand™ Legal Services offers companies a choice of three tiers of prepaid counsel for specified blocks of time: ranging from the $2000 Bronze level to the $6,000 Gold level. The flexible plan allows companies to scale their subscription up or down as needed per month, with full access to a broad range of legal services from Tenaglia & Hunt's practice areas. These include:

Corporate formation, business/partnership/LLC operating agreements
Contract negotiation, drafting and review
Commercial lease review
Acquisition due diligence
Purchases and leases of goods/services
Legal research & memorandums
Pre-litigation dispute resolution
The convenient client dashboard provides anywhere, anytime access from desktop and mobile devices, with features that provide greater billing transparency as well as a centralized communications hub for clients and Tenaglia & Hunt attorneys. Clients receive budget notifications, can track billing in real time, ping an attorney, send files securely and easily, collaborate on document revisions, as well as update and share online calendars, monitor activities, and track tasks.
For more information about OnDemand™ legal subscription services for small and medium-sized businesses, contact John Tenaglia at john(at)tenagliahunt(dot)com, James Hunt, Jr. at jhunt(at)tenagliahunt(dot)com, or visit http://www.tenagliahunt.com.
About Tenaglia & Hunt, P.A.
With offices in northern New Jersey, New York City and Delaware, Tenaglia & Hunt offers legal counsel in the areas of corporate law, business litigation and commercial debt collection. Founded in 1976, the firm has built a reputation for its representation of companies from start-ups to Fortune 500 corporations. In 2016, the firm was honored by Inc. magazine as one of the 5000 fastest growing private companies in America. For information, visit http://www.tenagliahunt.com.
###