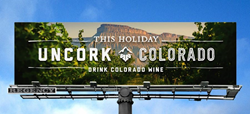 "This is second year in a row of exceptionally favorable growing conditions." Neil Jaquet, Grand Valley AVA grape-grower
Broomfield, Colo. (PRWEB) September 13, 2016
The Colorado Wine Board reports that the highly anticipated harvest season has arrived in Colorado's wine country. Winemakers from more than 140 wineries across Colorado are gearing up for crush as well as for myriad events taking place across the state that accompany the harvest. Having seen a relatively mild growing season, the 2016 harvest is expected to be a fruitful one as much of Colorado avoided the late season frosts and harsh winter damage that can curtail vintages. In addition, many of Colorado's wineries are increasing their production this year.
"Colorado's winemakers are feeling optimistic about this year's crop," said Doug Caskey, executive director of the Colorado Wine Industry Development Board. "All indications point to a very good year both in terms of quality and quantity for the Colorado wine industry, and our winemakers are expected to release several new varieties for 2017."
Colorado wines are a reflection of the state's unique growing climate, producing some of the best grapes in the country grown on over 1,000 high-altitude acres of vineyards. This harvest season, thousands of wine lovers will make the annual pilgrimage to Colorado's Western Slope to sample a growing array of Colorado wines and participate in a variety of events such as festivals, winery tours, winemaker competitions, shopping, concerts, grape stomps, and wine and food pairings. Favorites include the Annual Grape Stomp in Salida and The Colorado Mountain Winefest in Palisade, both of which attract thousands of tourists each year. For a complete list of events visit coloradowine.com/the-events.
The state's largest and oldest wine festival is the 25th annual Colorado Mountain Winefest, presented by Alpine Bank, which takes place September 15-18 in Palisade. Attendees and volunteers alike travel from all over the country to take part in this exceptional event. The "Festival in the Park" takes place on Saturday, September 17 and features dozens of Colorado wineries, live music, a grape stomp, chef demonstrations and seminars. This year, event organizers plan to welcome more than 6,000 guests to the Western Slope throughout the weekend. For ticketing and information go to http://www.ColoradoWinefest.com.
"This is the second year in a row of exceptionally favorable growing conditions thanks to a mild-winter with very little cold-injury," said Palisade grape grower Neil Jaquet. "The harvest cycle this year appears to be falling squarely during the time of the Colorado Mountain Winefest in Palisade next week. The cooler temperatures of September coupled with our sunny skies are ideal for people to visit the Winefest and tour the growing regions and wineries of the area."
Another exciting development this year occurred when Colterris Wines purchased Christianson Vineyards (the previous home of Canyon Wind Cellars). The quality, variety and strength of the vines that cover these 52 acres will create an immediate expansion of production, and will allow them to open an additional tasting room for Colterris Wines at 3907 North River Road.
"We have very high expectations for the 2016 vintage and we have big plans for the future," said Theresa High, Owner of Colterris Wines. "We expect to harvest around 200 tons of grapes this year and produce up to 15,000 cases of wine exclusively from our vineyards in Palisade."
About the Colorado Wine Industry Development Board
The Colorado Wine Industry Development Board is an agency of the Colorado Department of Agriculture, dedicated to promoting and furthering the development of Colorado's grape growers and approximately 140 wineries. For additional information, visit http://www.coloradowine.com.