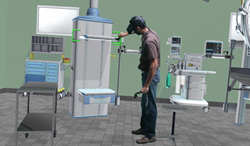 Powertrak CPQ is a multifaceted, interactive sales and marketing platform for communicating and exhibiting products, and enhancing the consumer's ordering experience.
Minneapolis, MN (PRWEB) September 13, 2016
Axonom, a global provider of cloud-based visual product configuration software, today launched Virtual Reality (VR) Product Configurator in its Powertrak CPQ (configure, price, quote) product line. The new offering augments product configurations and enriches the ordering experience by empowering users to virtually interact with configured products and explore three-dimensional environments.
Powertrak Virtual Reality Product Configurator is an interactive sales tool for manufacturers that design, sell, and market highly configurable, make-to-order products. This virtual showroom experience helps sales reps, dealers, and distributors showcase the competitive differences and convey key attributes and benefits of their products in ways that words and static pictures cannot.
Axonom will unveil Powertrak VR Product Configurator for operating room and surgical suite configuration and design at the OR Manager Conference on September 21-22, 2016, at Caesars Palace, Las Vegas.
Medical device, vehicle, and heavy machinery manufacturers leverage Powertrak 3D Product Configurator to visually present near-photorealistic 3D renderings of their product(s) on websites and mobile tablets. The visual configurator empowers customers to interactively custom build products and design spaces with an easy-to-use, drag-and-drop feature. When complete, customers don a HTC Vive headset to visualize and operate configured product(s) and explore the virtual environment.
"Often there are multiple decision makers involved in ordering expensive goods," said Axonom COO Mike Belongie. "Users can build the product and save the design at home or at the dealer. Then they invite stakeholders to the virtual reality experience, an interactive storytelling that connects everyone involved to the product on a visual, physical, and emotional level."
The HTC Vive enables users to virtually explore configured environments in stunning detail. The hand tracking controllers aid in product movement, rotation, and attachment. It also supports change in room-scale to see the environment from various viewpoints.
Powertrak CPQ is a comprehensive suite of omni-channel visual and non-visual quoting, pricing, ordering, and product configuration solutions that accelerate the conversion of sales opportunities into revenue through automation. The solution provides manufacturer's sales representatives, dealers, and partners to cost-effectively sell and market large-scale products without the added cost, complications, and physical limitations of tangible samples.
"Powertrak is a multifaceted, interactive sales and marketing platform for communicating and exhibiting products, and enhancing the consumer's ordering experience. Together, Powertrak 3D Product Configurator and VR Product Configurator is a collaborative solution for strengthening the relationship between users, stakeholders, and the brand," Belongie adds.
About Axonom
Axonom is an independent software vendor that develops, designs, and markets Powertrak, the innovative B2B revenue management suite for high-tech and manufacturing industries. Powertrak CPQ enables companies to successfully sell and service to its customers and partners in an environment that requires multi-level relationship tracking, web self-service, partner/dealer loyalty management tools, streamlined quote-to-order processing, service revenue management, hassle-free payment options, and a worldwide presence.
Enriched with mobile extendibility, the Powertrak solution suite includes: Configure-Price-Quote, 2D/3D Visual Product Configurator, Virtual Reality Product Configurator, Guided Selling, and Customer and Partner Portals. By delivering more transactions more efficiently through channels at a lower cost, Powertrak helps customers achieve greater profit potential. For more information, please visit http://www.axonom.com.