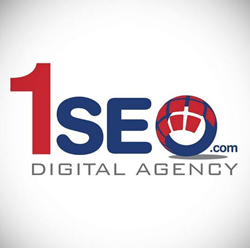 Bristol, PA (PRWEB) September 12, 2016
Each year, the US Search Awards honors search and digital marketing professionals that have achieved notable success in the digital space. Among those honored this year is Bristol, PA-based 1SEO.com Digital Agency. In fact, 2016 marks the fourth year in a row that 1SEO.com Digital Agency has been shortlisted for the US Search Awards.
This year, the agency is being recognized for its accomplishments in 10 categories, including Best Large Agency. Other categories in which Philadelphia's leading digital agency is being recognized include Best SEO Campaign, Best PPC Campaign, Best Social Media Campaign and Best Integrated Campaign. With 16 shortlisted campaigns, 1SEO.com Digital Agency has the strongest presence on this year's US Search Awards shortlist out of all other contenders.
"We're honored to have our team recognized for the results they've produced for our clients," said Lance Bachmann, Founder and CEO of 1SEO.com Digital Agency. "We're going 16 in '16!" he added.
The world of digital marketing changes at a breakneck pace, and players in this space need to keep up. No one knows this better than 1SEO.com Digital Agency. Over the course of a mere seven years in business, the agency has swelled from a boutique agency with under 10 employees to a 50+ employee operation that offers a full suite of services including PPC, SEO, web development, social media and content writing. Ever-sensitive to digital marketing's changing landscape, 1SEO.com Digital Agency continuously refines its strategies and processes, focusing on effortless communication and unsurpassed customer service.
Not only has the company helped hundreds of clients get found online by customers, but they have also earned widespread industry recognition for their efforts in doing so. Most recently, 1SEO.com Digital Agency was named an official Google Premier Partner. The company's accomplishments and continual focus on the future of digital marketing make them a major digital marketing player to watch in the years to come.
Meet the team at Philadelphia's best SEO company and learn more about 1SEO.com Digital Agency's digital marketing services at http://www.1seo.com.
About 1SEO.com Digital Agency
1SEO.com Digital Agency is a Philadelphia, PA-based digital marketing firm that provides end-to-end solutions for their clientele, which is comprised of hundreds of businesses in countless industries that operate in several sectors, from the niche to the mainstream. Using a full suite of services like search engine optimization (SEO), pay per click (PPC), social media optimization (SMO), website design, content writing and email marketing, 1SEO.com Digital Agency helps their clients win online by cultivating online presences and harvesting leads, closes, conversions and profits.
To learn more, please visit http://www.1seo.com/.