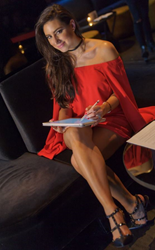 New York, NY (PRWEB) September 10, 2016
Chic Sketch, the fashion-forward mobile app, is proud to offer an exclusive look at the Spring/Summer 2017 collections during New York Fashion Week. The app that allows users to transform photos into Instagrammable fashion sketches will be offering a unique look at New York Fashion Week through the eyes of a fashion illustrator.
Chic Sketch's Co-Founder Emily Brickel Edelson will be seen sitting front row and backstage sketching at the most prestigious shows including a collaboration with Nicole Miller, and show coverage of Noon by Noor, Michael Costello, Ulla Johnson, Tadashi Shoji, Dan Lui, Tommy Hilfiger Carnival, Namila, Taoray Wang, Leanne Marshall, Xuly Bet, Marchesa, among others. The app's homepage banner and Snapchat (@ChicSketch) will feature the sketches in real-time giving users an inside look at New York Fashion Week.
Chic Sketch allows users to submit a photo and receive a quick sketch drawn by a real fashion illustrator of your latest look to share on different social media sites. Jordan Edelson and Emily Brickel Edelson founded the design app to help connect others with their very own custom fashion illustrations. Sketches are drawn in a quick fashion illustration style making no two sketches alike since they are personally made for you. Chic Sketch is available for iOS and Android devices in the Apple App Store and Google Play.
In addition to NYFW coverage, Chic Sketch is hosting its first Instagram giveaway with pre-order of the new book Sketch and Go: 5 Minute Fashion Illustration by Chic Sketch co-founder Emily Brickel Edelson. Stay tuned to @Chicsketch all NYFW long show coverage and details to win!
For more information please visit http://chicsketch.com and to pre-order Sketch and Go: 5 Minute Fashion Illustration visit http://chicsketch.com/sketchandgo.
About Chic Sketch
Chic Sketch is a fashion-forward mobile app that converts photos into Instagrammable fashion sketches in minutes. Created by husband and wife team Emily Brickel Edelson and Jordan Edelson, working with their team of illustrators, you can receive a custom sketch of you, your friends, colleagues or loved ones to be shared immediately on social media or presented as a thoughtful gift. Chic Sketch has been recognized by Allure, E! News, Vogue Spain, WhoWhatWear, Refinery 29, Nylon and InStyle. Emily and her illustrators have also teamed up with brands such as Saks Fifth Avenue, Bloomingdales, Furla and Sephora to engage a social audience at their prestigious events. To learn more please go to http://www.chicsketch.com.
About Appetizer Mobile
Since its launch in 2009, Appetizer Mobile has designed and developed over 150 apps for world class brands such as, Lady Gaga, Kim Kardashian, NBA Properties, Epic Records, ZocDoc, Montessorium, Universal Music Group and Interscope Records. Mobile applications developed by Appetizer Mobile have aggregated several millions of downloads and have been featured in national advertising campaigns by Apple. Under the leadership of CEO and Founder, Jordan Edelson, the company has been named one of the Top 10 Mobile App Developer in the U.S. for 4 consecutive years.
###