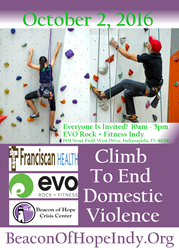 'EVO Rock is excited to help raise domestic violence awareness and support for Beacon of Hope. On October 2nd we will donate 60% of all day pass sales to assist them in this fight. With your help, together, we can make a difference.' - Scott Bouldien
Indianapolis, IN (PRWEB) September 19, 2016
EVO Rock + Fitness Indy is hosting the Climb To End Domestic Violence on October 2nd from 10am to 5pm at 1931 Stout Field West Drive, Indianapolis, IN 46241. This event is sponsored by Franciscan Health. The goal is to raise awareness about domestic violence and funds to support the Beacon of Hope Crisis Center, a domestic violence crisis support agency that serves the central Indiana community.
EVO Rock, Franciscan Health and Beacon of Hope invite the community to come and enjoy the day at EVO Rock. Before or after church, bring the whole congregation because together, we are mighty and can achieve historic heights making a difference. Help exceed the goal by attending this October 2016 domestic violence awareness month event (#DVAM). Share this news with every church family and come join in the fun supporting a great cause on this Sunday. Beacon of Hope Crisis Center serves all individuals and families facing domestic violence crisis regardless of religion, race, color, sex, age, sexual orientation, gender identity or gender expression, marital status, national origin, language capacity, or ability and everyone from the community is invited to join in the fun on October 2nd.
Whether new to rock climbing or already the skilled belay-er or boulder-er, this event is for all skill levels. This indoor climbing gym was built inside of an old airplane hangar and it is an architectural experience. Coming to this awareness event is important because attending helps to raise critical funds for providing direct client assistance to individuals in the community. Beacon of Hope makes a difference, when the community helps make a difference. Here is a little about what this domestic violence agency provides to the community and how they make a difference.
Beacon of Hope Crisis Center provides victim advocacy services to victims of domestic violence and sexual assault. The victim advocacy team provides victims with emotional support and help finding resources. Advocates help victims with filling out paperwork and sometimes go to court with victims. In an effort to best help and get information for victims, advocates reach out to other collaborative partners and organizations such as social service agencies and law enforcement for criminal justice assistance. A crisis hotline team fields incoming crisis calls.
The foster pet program helps victims leave their abusers. Victims do not want to leave their pets behind and when safe shelter doesn't allow pets to come along, this Beacon of Hope program temporarily safely provides for pets. The program consists of volunteer host families who agree to temporarily house pets while the victim is getting the help they need. This is a major barrier for many victims that need to leave their violent situation.
The criminal justice program consists of partnerships with the police departments of Southport, Lawrence, Beech Grove, Speedway and Greenwood. Beacon of Hope victim advocates work with law enforcement to follow up on purple sheet cases and when needed, advocates will arrive in partnership ready to assist victims during domestic violence calls. Advocates also provide emotional advocacy and assistance to those in crisis from sexual assault.
The life skills and employment services program offers instruction with computers, typing, resume writing, dressing for success, mock interviews, financial budgeting and assistance with job placement. The program assists survivors of domestic violence with moving from short-term safety to long-term security, providing them with the knowledge and skills to achieve economic self-sufficiency. The overarching goal of the program is to help victims of domestic violence become self-sufficient in order to financially support themselves and their children.
The teen talk outreach and education program is committed to supporting the needs of teens through outreach and education. The program consists of educating and saving lives through implementation of curricula addressing teen dating violence and healthy relationships.
The agency actively works to increase public awareness because the impact of domestic violence and sexual assault on businesses is financially mind-boggling and the toll on individuals and team culture is horrific. Through speaking engagements and community events, the agency raises public awareness about domestic and sexual violence and the emotional, physical and economic cost of this violence.
The agency impacts the community by striving every day to ensure that advocates are informed, empowered, encouraged and ready to service clients in every way that is needed. It advocates for clients in all ways that will help them become free from the grip of domestic violence, and helps to reduce crime and homicide rates by working to break the cycle of domestic violence and sexual assault.
Beacon of Hope Crisis Center is a Christ-centered organization empowering victims of domestic violence to become self-sufficient by providing safety, support and education—a non-profit 501(c)(3) organization located in Indianapolis, Indiana. For general information, call the administrative office at (317)731.6131 or mail to P.O. Box 34318, Indianapolis, IN 46234. In crisis, call the crisis line at (317)731.6140.