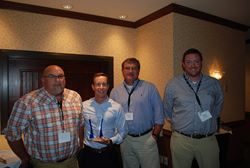 Oakwood, Georgia (PRWEB) September 11, 2016
The dinner event, held at Lake Lanier Islands in Buford, Georgia, lauded the efforts of strategic logistics partner C.H. Robinson and the network of transportation companies used by the company. This year, three carriers who went above and beyond to help Wayne Farms deliver on customer expectations were singled out for their contributions:
Large Carrier of the year: R.E. Garrison (Cullman, Alabama)
Small Carrier of the year: Tidco Transportation (Double Springs, Alabama)
Customer Service Award: Whitestone Transportation (Moselle, Mississippi)
"The safe and timely delivery of needed materials and transport of quality poultry products from processing facilities to customers is critical to our business's success," said Aaron Leach, Senior Director of Supply Chain at Wayne Farms. "These awards were difficult because our carrier network is so solid—they all share our commitment to operational excellence. He went on to note that the quality of customer and logistics services provided by all Wayne Farms LLC carriers was outstanding across the board.
# # #
About Wayne Farms LLC
Wayne Farms LLC is the sixth-largest vertically integrated poultry producer in the U.S. with annual sales exceeding $1.9 billion. A subsidiary of Continental Grain Company, Wayne Farms owns and operates 11 fresh and further-processed facilities throughout the Southeast, produces more than 2.6 billion pounds of poultry products each year, and employs more than 8,900 individuals. Producing products under the brand names of WAYNE FARMS® fresh chicken; PLATINUM HARVEST® premium fresh chicken; DUTCH QUALITY HOUSE® chicken and CHEF'S CRAFT® gourmet chicken, Wayne Farms has a well-known history of delivering exceptional poultry products to some of the largest industrial, institutional, and foodservice companies across America.