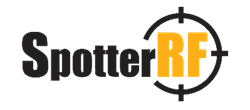 ORLANDO (PRWEB) September 12, 2016
SpotterRF today announced its new, highly affordable CK10 compact surveillance radar (CSR) for commercial and private use. Running at 24GHz, this model, like the ASIS Accolades winning CK2, requires no FCC licensing. In addition, SpotterRF is now shipping its 10 GHz Commercial Series with significantly increased range without an increase in price over previous models. New models may be viewed at ASIS booth #943 at the Orange County Convention Center. SpotterRF is a leader in ground surveillance radar (GSR), which is expected to lead global radar security market growth to $25 billion by 2022 (source: MarketsandMarkets*).
"Winning the 2015 ASIS Accolades award with our first 24GHz radar, the CK2, confirmed our belief that there is a demand for more affordable radar," states Logan Harris, CEO for SpotterRF. "In addition, extending the coverage area with the C20C, C40C and the C40C-EXT at the same price point comes from our efforts to always provide the best radar perimeter security at the lowest possible price."
The Spotter CK10 operates at peak efficiency in rain, fog, snow, or sand storm—a claim that thermal cameras cannot make. Its 1.5 lb. weight, slim 9"x6.9"x1.7" size and its 60-minute setup make it a breeze for security personnel to plug critical gaps in perimeter security. CK10 provides a maximum range of 200m for vehicles, a 90 deg. horizontal field of view, and tracks up to 20 targets simultaneously. See Product Page.
While maintaining existing pricing, SpotterRF commercial 10GHz radars—C20C, C40C and C40C-EXT—now have a greater coverage area of up to 185 percent and increased range of up to 67 percent, depending on the model.
SpotterRF compact radar units come in many sizes, weigh as little as 1.5 lbs. (each), use less energy than a light bulb (approx. 5W each), and can communicate with standard web browsers and Google Earth. Operator training takes less than 30 minutes in the field.
About SpotterRF
SpotterRF provides protection beyond fences with the world's most advanced Compact Surveillance Radar (CSR) system for perimeter security and force protection. Made in the USA and engineered for extreme conditions, SpotterRF technology is the most compact, lightweight, energy efficient, and cost-effective radar for elite warfighters and critical infrastructure requirements, such as electrical utilities. For more information, visit https://spotterrf.com/commercial-products/