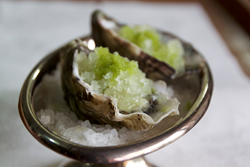 Jamestown Seafood is proud to support National Seafood Month and initiatives to raise awareness about the health benefits and sustainability of oysters and other seafood
Port Angeles, Washington (PRWEB) September 13, 2016
October is National Seafood Month, the perfect time to highlight smart seafood choices, sustainable fisheries, and the health benefits of eating a diet rich in seafood. And to celebrate, Jamestown Seafood has developed several new oyster recipes for the Fall harvest.
The secret is artfully crafted and healthful recipes that complement Sequim Bay oysters, never masking the delicious and distinctive flavors that they provide. When considering the bounty of a Fall harvest and oysters, think of pears and apples in a lovely relish spooned over of oysters; quince paste or sauerkraut deliciously paired with oysters; beet, pumpkin or sweet potato soup with a dollop of Crème Fraiche topped with plump juicy oysters; or finely diced fennel added to your favorite Mignonette.
Figs, leeks, pomegranate, and potato are all wonderful for serving with raw oysters or in heartier oyster dishes prepared on the stove; and those tasty end-of-season heirloom tomatoes can be whizzed up to make a lovely tartar with a dash of Tabasco, Worcestershire and fresh horseradish (also in season). Speaking of horseradish, it infuses a wonderfully spicy flavor into all kinds of seasonal sauces and dressings.
As the weather cools, we also gravitate towards full-bodied stouts, rich ciders and deep red wines, all pairing exceptionally well with oysters and Fall produce. Even when cooking, you can incorporate a rich and creamy beer (such as Guinness) or a mulled, delicately sweet cider into recipes, such as risotto. Topped with a few Sequim Bay oysters, and studded with mushrooms or squash, it doesn't get much better. We also like cozying up in front of a mesmerizing log fire, where romance is dipping oysters in a nice red wine reduction.
Following are a selection of delicious recipes from Jamestown Seafood, prepared in anticipation of Fall harvests, featuring their newly released Sequim Bay Oysters.

Pumpkin and Ale Blini with Oysters and Beet Relish
Broiled Oysters with Pear & Horseradish Puree
Oysters with Champagne, Apple & Basil Granita
Aside from deliciousness, there are even more reasons to enjoy oysters this time of year (not that we ever need a reason to enjoy them).
OYSTERS ARE HEALTHY Oysters are a great source of minerals, vitamins, antioxidants, protein and Omega 3 fatty acids. Loaded with Zinc, Selenium, Iron, Vitamin B12 and Iron, these morsels are nature's perfect dietary supplement.
OYSTERS WILL HELP YOU KEEP OFF THE POUNDS Oysters are low in fat and high in protein, making them a great, low calorie alternative to meat. In addition, and since you tend to eat them slowly, you will fill up sooner.
OYSTERS HELP BOOST YOUR IMMUNE SYSTEM Oysters are extremely high in Zinc, Selenium, Potassium and Vitamin D, give your blood a healthy boost of Iron for energy, and help to ward off winter colds and flu.
OYSTERS CARE FOR THE ENVIRONMENT Oysters are an important part of a healthy watershed. Their active filtering maintains, and in some cases, improves water quality. When it comes to farming, they are a sustainable and
renewable seafood resource.
"Jamestown Seafood is proud to support National Seafood Month and initiatives to raise awareness about the health benefits and sustainability of oysters and other seafood," said President and owner Kurt Grinnell.
ABOUT JAMESTOWN SEAFOOD
Jamestown Seafood's oyster farm is nestled in the pristine waters of Sequim Bay (pronounced "skwim") along the Strait of Juan de Fuca and just before the entrance to the Puget Sound.
Recognizing this watershed as distinctly different from the majority of oyster beds further along and deeper into the Puget Sound, the oyster industry is witnessing the emergence of something entirely new, distinctive and extremely delicious.
Oyster production begins at the company owned hatchery, embracing scientifically regulated and meticulously managed spawning and seed grow out procedures. Maintaining a watchful eye on their oyster beds throughout the maturation process, Jamestown Seafood enjoys harvests that are commercially viable, sustainable, consistent, and abundant.
Jamestown Seafood produces two varieties of Pacific Oysters (crassostrea gigas): Sequim Bay Jades (Beach Farmed), silky smooth, with unmistakable brine, subtle sweetness and a fresh cucumber finish, and Sequim Bay Blue Opals (Tumble Farmed) which are plump, juicy and succulent, display a clean ocean flavor accompanied by subtle sweetness and buttery texture.
The company also recognizes the delicate balance that must be maintained between a thriving watershed and an economically viable commercial fishery. Working in cooperation with local, state and federal agencies, and moving beyond shellfish that are commercially sustainable today, the company is exploring ways to restore once prized, and now depleted, indigenous species.
MEDIA INQUIRIES - For more information about Jamestown Seafood or Sequim Bay Oysters, please visit the company website: http://www.jamestownseafood.com. All other media inquiries should be directed to Sally James (sally(at)studiospear(dot)com) or Jeffrey Spear (jeff(at)studiospear(dot)com, 904-685-2135).