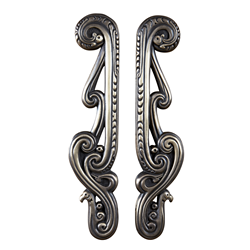 "The custom cabinet pull is an abstract mythical piece that fuses bird, vine stem and human features"
(PRWEB) September 13, 2016
The custom cabinet pull is substantial in scale measuring 12" (31cm) high and 3" (8cm) wide and can be used either for large cabinet doors or for interior doors. It is cast in solid bronze and made using the lost wax method of casting which enables Pierce to achieve incredible detail and fluidity in his castings.
According to Pierce "the piece was sculpted in wood and carved as a 3 dimensional sculpture, both sides having the same design. In the photograph you can see there are 2 pieces effectively a left and right facing piece that have been created by flipping the casting over and using the reverse side as a mirror image. As the mounting posts are attached afterwards, one design can be used to create a pair of pulls."
Hawaiian culture has been an ongoing source of inspiration to Martin Pierce whose Hedgerow themes were used as lei hooks in the Four Seasons St. Regis Princeville Hotel and whose mythical bird pulls and iguana as were commissioned by interior designer Debbie Zylstra for a Kona, Hawaii. For Zylstra Designs a detailed.