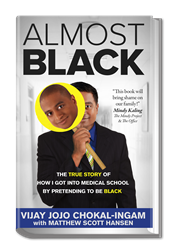 I posed as black to avoid racism against Asian Americans in university admissions. -- Vijay Jojo Chokal-Ingam
Los Angeles, California (PRWEB) September 13, 2016
Following the Supreme Court's decision upholding affirmative action in the Fisher v. University of Texas case, Vijay Jojo Chokal-Ingam exposes the huge impact that race has on admissions decisions at America's top universities with the release of Almost Black: The True Story of How I Got into Medical School by Posing as Black.
In his third year of college, Chokal-Ingam realized he didn't have the grades or test scores to get into medical school, at least not as an Indian American. So he shaved his head, trimmed his long eyelashes, and even joined the Organization of Black Students in order to "self-identify" as African American in his applications.
Despite a low 3.1 GPA, Chokal-Ingam managed to interview at 11 top medical schools in America, including Yale School of Medicine and Columbia University College of Physicians and Surgeons. Furthermore, he got waitlisted at several prestigious schools, including Washington University, Case Western Reserve University, and the University of Pennsylvania. In Almost Black, Chokal-Ingam reconstructed his interview experiences in vivid detail with ample factual evidence such as official letterhead from the schools and real names of med school interviewers. Some interesting highlights:
1. Chokal-Ingam successfully deflected the accusation of faking his racial identity during an interview with Rubens Pamies, M.D., then Director of the Office of Minority Affairs at Case Western Reserve University.
2. Dr. Ellen Frank of the University of Pittsburgh School of Medicine praised Chokal-Ingam for being "a role model for African Americans everywhere" during an interview.
3. Disregarding their state's strict residency requirements, the University of Wisconsin–Madison invited Chokal-Ingam to apply as an out of state "minority."
Coauthored with Matthew Scott Hansen, Almost Black is written from the perspective of an irreverent 21-year-old frat boy desperate to get into medical school. While the conversational and colorful narrative style of the book appeals strongly to college students, the story also has poignant moments when the main character encounters racism for readers interested in a more serious discussion of racial issues. Almost Black also provides a rare, comprehensive look into what medical school application process looks like from start to finish.
While posing as a black man, Chokal-Ingam experienced the "dark side" of the African American experience. Cops harassed him, store clerks accused him of shoplifting, and fellow students became intimidated by him because of their stereotypical fears of African American men. Chokal-Ingam observed firsthand how the Chicago police system "makes it easy for officers to lie in official reports" as concluded by the Chicago Police Accountability Task Force. He witnessed a Chicago PD officer openly commit perjury in court: denying that he had asked Chokal-Ingam racially targeted questions.
"I posed as black because I wanted to avoid racism against Asian Americans in university admissions," said Chokal-Ingam. "Yet, I discovered widespread racism against African Americans."
Chokal-Ingam's sister Mindy Kaling has famously said "this book will bring shame on the family" and has denied knowledge of her brother's scheme. However, in Almost Black, Chokal-Ingam recalls how Kaling talked him out of applying to Dartmouth and Harvard for fear that his racial deception would be detected. Kaling was also the first person to jokingly suggest that someone write a book about her brother's "surprisingly funny" scam.
Almost Black is now available for purchase in paperback and eBook versions on Amazon, Barnes and Noble, and other fine booksellers. An audiobook version narrated by talented voice actor Spencer Cannon is also available on Amazon, Audible, and the iTunes Store.
To learn more, go to almostblack.com.
To request interviews with Vijay Jojo Chokal-Ingam, email press@almostblack.com.