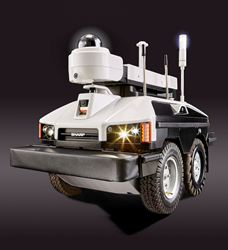 The INTELLOS A-UGV is rooted in Sharp's 100+ years of manufacturing excellence and a legacy of engineering world technological 'firsts.'
Mahwah, New Jersey (PRWEB) September 12, 2016
Sharp Robotics Business Development (SRBD), a division of Sharp Electronics Corporation (SEC), debuted the Sharp INTELLOS™ Automated Unmanned Ground Vehicle (A-UGV) at the 62nd Annual Seminar and Exhibits of ASIS International 2016 (ASIS) in Orlando, Florida. Sharp's announcement came just hours into opening day of ASIS, which draws 20,000 security management professionals from around the world. SRBD Vice President & Deputy General Manager, Cliff Quiroga, told the press "Sharp Electronics Corporation is pleased to introduce this revolutionary robotics technology solution for security at this signature industry event."
The Sharp INTELLOS A-UGV is a cost-effective, multi-terrain, mobile sensor platform that can capture video, audio and environmental data, while providing a visible deterrent. The data it provides can enhance outdoor surveillance, security, safety and maintenance inspections, which will help organizations meet the challenges of an ever-changing security landscape by augmenting a skilled guard force.
Product Definition
Sharp INTELLOS is a type of robotics system in the category called Automated Unmanned Ground Vehicle ("A-UGV"). Unlike existing remote control robots that require a trained, human operator, an A-UGV is essentially a self-directed robot, which navigates on the ground without a human driver.
After its route is programmed, it is capable of operating outdoors around a facility and can be equipped to extend human capabilities, such as sight, using an array of cameras, which include optional thermal imaging.
Though it can provide virtual, autonomous operation for up to three touring shifts daily, the Sharp INTELLOS A-UGV can also be over-ridden by the operator in a command center and used as a semi-autonomous vehicle when more direct control is required.
Key Features

The vehicle is designed to carry a payload of standard cameras, and available optional gas and chemical sensors that can be used to observe changing situations from within the safety of a Security Command Center.
The vehicle is equipped with a siren, flashing lights and voice announcements, including two-way communications, to help detect vandalism, trespassing, theft and other dangers, such as potentially identifying pipeline cracks or gas leaks.
Lithium ION batteries provide driving power to the system. These batteries are housed in user-replaceable cartridges that can be charged in an off-line charger to provide on average 8 hours of run time.
The ruggedized design is intended to withstand variations in temperature, and can tackle an array of terrains with its omnidirectional tires.
The vehicle's telescopic boom stretches to average human height, which enables it to see into and over objects, such as fences.
It is designed with the utmost of safety considerations in mind and multi-tiered safety features, such as LIDAR (Light Detection and Ranging) to reduce risk of collision during unattended patrol.
Right Fit Customers
The Sharp INTELLOS A-UGV utilizes a navigation surveillance platform developed by Sharp. According to Doug Albregts, President, CEO and Chairman of SEC, "The INTELLOS A-UGV is rooted in Sharp's 100+ years of manufacturing excellence and a legacy of engineering world technological 'firsts.' Like our document systems and professional displays for which we are known, the Sharp INTELLOS A-UGV is another solution for today's businesses. When it comes to the shifting demands of private and public sector security, the industry integrators and their customers will now have a safe, reliable and cost-effective robotic tool working to safeguard people, assets and infrastructure."
This automated guarding system can be integrated with any site's current security infrastructure to add additional layers of monitoring and detection capabilities. Sensor and two-way communication data can go back to a command center in real-time, allowing detection of incidents as they occur, as well as recorded for future viewing.
Sharp's A-UGV is well suited for large, expansive outdoor properties such as:

Distribution and storage
Manufacturing
Power and utility
Pharmaceutical
Data centers
Petro-chemical and mining
Airports and rail yards
Government facilities
Product Availability
"Over the coming months, we will continue to run customer trials and share case study findings," stated SRBD's Cliff Quiroga. "Channel partners and security integrators are taking orders now. Units are targeted for shipment by the beginning of 2017," Quiroga added.
For some, availability could not come soon enough. According to David Antar, President of IPVideo Corporation, the Sharp INTELLOS A-UGV is what the security industry has been waiting for. "IPVideo Corp, a division of ACG, has been a leader in the security industry since the inception of the first IP camera, developing leading edge network-based video and fusion center technologies. The Sharp A-UGV fills the gap that has existed in true situational awareness and real-time data collection for customers in search of comprehensive surveillance. During my nearly 30 years in the industry, rarely have I been this excited about a new product launch. I believe in Sharp. The team they have assembled to the support their customers through the entire lifecycle of the product exemplifies Sharp's commitment to security management professionals."
To find out more and express sales interest, visit SharpINTELLOS.com.
To foster awareness and understanding about UGVs for security, visit Robolliance.com.
About Sharp Electronics Corporation
Sharp Electronics Corporation is the U.S. subsidiary of Japan's Sharp Corporation. Sharp is a worldwide developer of one-of-a-kind home entertainment products, appliances, networked multifunctional office solutions, LED lighting, and mobile communication and information tools.
For more information, visit SharpUSA.com.