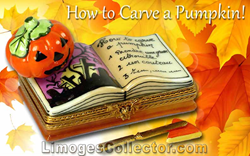 Shopping for a thoughtful gift is fun and exciting at the easy-to-use LimogesCollector.com website
Los Angeles, California (PRWEB) September 12, 2016
LimogesCollector.com presents bushels of fun with a Fall harvest of exquisitely hand-painted French Limoges box gifts sure to delight any collector and gift shopper. The new collection includes Autumn, Halloween and Thanksgiving themed Limoges boxes as well as a fantastic array of various unique designs offered exclusively at LimogesCollector.com. With over 2,300 various styles of authentic fine French porcelain Limoges boxes, LimogesCollector.com has the perfect collectible piece, gift, and fall décor to celebrate the change of seasons.
"Shopping for a thoughtful gift is fun and exciting at the easy-to-use LimogesCollector.com website" says Vida Cunningham, the company's founder. "Shoppers can choose from our extensive selection of French Limoges boxes that are too beautiful to resist in every theme imaginable. Those seeking the perfect gift to impress the recipient or gift ideas for any occasion are sure to find a great variety of fun, beautiful and artistic Limoges boxes to choose from."
This Fall, friends and loved ones will be greatly charmed with unique and amazing gifts from LimogesCollector.com. Whether a gift is intended for a professional, a culinary enthusiast, an art lover, the person with a green thumb, one with a love of reading, music enthusiast, parents welcoming a new baby, and the list goes on, the ever-growing extensive selection of Limoges boxes offered by LimogesCollector.com is the perfect place to shop for French Limoges boxes.
Gift-giving is made even more special with personalization – a specialized service offered by LimogesCollector.com. To make a gift purchase more personal and memorable, gift buyers can add a message of their choice to be hand-inscribed by an artist. For a small fee, the artist inscription message is added inside the Limoges gift in-house with no delay.
Hand-painted French Limoges boxes are among the top luxury gifts and collectibles in the US. These exquisitely detailed miniature art pieces are greatly sought after by collectors and gift shoppers alike. Whether it's a gift for a hard-to-buy-for recipient or to add to one's collection, shoppers and collectors can find an amazing selection of genuine peint main French Limoges boxes to suit any occasion.
About LimogesCollector.com:
For the past two decades, LimogesCollector.com's family of websites have provided collectors around the world with the finest French Limoges boxes in an array of styles and themes. Their extensive selection feature exquisite hand-painted porcelain Limoges boxes by top-of-the-line Limoges brands such as Beauchamp, Artoria, Rochard, and many more. From pouring the porcelain paste into the mold to the hand-painting and metalwork, every Limoges box they offer is crafted by master artisans in the Limoges region of France.
The company prides itself not only in offering the top brands of luxurious Limoges boxes but also providing superior customer care and speedy shipping. A service especially popular with gift buyers is their artist hand-inscribed personalization. Many shoppers want to make their gift purchase even more personal and memorable by adding a message of their choice to their Limoges purchase, beautifully hand-inscribed by an artist. This service is performed in-house on a same-day basis.
For more information, please contact:
Customer Relations Specialists
LimogesCollector.com
310-390-7428
https://www.LimogesCollector.com