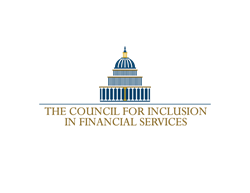 'The CIFS is developing financial industry-related solutions to acknowledge and resolve an industry challenge.' - Cheryl Travis-Johnson
CARROLLTON, TEXAS (PRWEB) September 12, 2016
Today, the Council for Inclusion in Financial Services (CIFS) was formally launched by a coalition of industry leaders with the goal of helping the financial services industry develop and sustain an inclusive workforce while enabling compliance with Section 342 of the Dodd-Frank Act.
Through its first major initiatives, The CIFS is providing industry resources for both suppliers and financial institutions, including offering the industry's only online Diversity & Inclusion Self-Assessment tool from VRM University. Additionally, the organization has launched what is designed to be the industry's most comprehensive, online-sourcing portal to connect vendors, suppliers, and requisition groups at financial institutions and solution providers.
The CIFS' new sourcing portal will enable vendor management and sourcing departments to search for vendors and suppliers based on fields including service category and geography, while providing financial institutions the ability to track and report on utilization. Additionally, The CIFS will offer vendors and suppliers the option of becoming a CIFS-certified vendor, which entails a broad industry-standard background check, and basic training covering topics that help organizations build in-house programs to support diversity and inclusion efforts. Moreover, CIFS will provide certification programs for compliance officers on diversity & inclusion and develop VA and college internship programs to attract more women, minorities, and Veterans into the industry.
"There are so many initiatives to try and address what is clearly an important issue of our time, that it just makes good sense to have everyone come together and streamline our efforts," says Cheryl Travis-Johnson, a founding board member of CIFS and executive vice president of VRM University. "The CIFS is developing financial industry-related solutions to acknowledge and resolve an industry challenge." Partnering with VRM University (VRMU), The CIFS will also distribute the Diversity and Inclusion Self-Assessment Tool released in October of 2015. This tool has become an industry flag-bearer for organizations seeking to understand and address their current diversity and inclusion practices.
The tool offers a free option for financial service businesses to benchmark, document and report their compliance with the standards in Section 342 of the Dodd Frank Act. It is a confidential resource that includes a workbook and online assessment that maintains user anonymity. This set of tools can be the first step for a financial institution to ascertain where they might have gaps in their programs.
"As a smaller, minority-owned company, I've seen firsthand the challenges of finding and competing for opportunities," adds Marques Woods, founding board member and managing director of Network Asset Services. "I saw an opportunity with The CIFS to increase competition and provide a level playing field for all providers. This new organization and its initiatives are built to move quickly and develop real, relevant solutions for this evolving financial services market."
The CIFS features an advisory board of diverse and accomplished executive leaders from the financial services industry, along with educators and thought leaders shaping our national discourse. Advisory board members provide guidance on programs and initiatives that will advance The CIFS' mission, including educational and certification programs. The focus for each board member is to ensure The CIFS creates and maintains a marketplace for suppliers, and management candidates to interact with financial services companies to fill open opportunities.
The CIFS also plans to launch a portal for companies to upload proposal requests for sourcing opportunities and post management positions. Additionally, the tool will allow companies to obtain a one-page capabilities statement on participating suppliers when seeking strategic partners for service offerings.
The CIFS believes this is the first step to providing unfettered access to opportunities and, when possible, enables the ability for vendors and suppliers to compete without limitations. Further, by creating a pool of diverse, certified, and trained suppliers, CIFS will provide the industry with a sourcing portal of third-party contractors. All of these efforts combined will help meet compliance standards from Section 342 of Dodd-Frank Act and bring tangible change to the industry.
For more information about CIFS, visit: http://www.councilforinclusion.org
To access the Diversity & Inclusion Self-Assessment, visit: http://vrmuniversity.com/di-selfassessment/
About The Council for Inclusion in Financial Services
The Council for Inclusion in Financial Services (CIFS) is an industry initiative created to help the financial services industry develop and sustain an inclusive workforce. The CIFS was initially formed to address the requirements of Section 342 of The Dodd-Frank Act that relate to supplier utilization, women, and minorities in senior leadership roles. To address the fundamental challenges that inadvertently create exclusionary practices which limit access to all groups, The CIFS develops tools, training, certifications and sourcing vehicles for organizations across all financially related industry verticals. The advisory board of The CIFS exists to facilitate rapid industry change and create forward movement by bridging the gap between the various diversity and inclusion initiatives within the financial services industry.