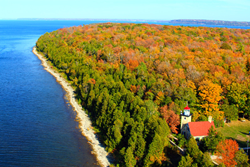 (PRWEB) September 13, 2016
Fall travelers will find a cornucopia of attractions in Door County this season, including an extraordinarily bountiful apple crop and vibrant fall colors across the scenic 70-mile peninsula. Through October 23, the county will spotlight those attractions with the "So Delicious, So Door County" promotion, a multi-faceted celebration of the county's natural beauty and rich food scene.
Door County's orchards and farm markets are particularly compelling this harvest season as apple growers are predicting one of the best crops in years thanks to timely rains and heat this summer. Visitors can pick their own apples at numerous orchards starting the weekend of September 17 or purchase a bundle at local markets. The farm markets and specialty stores also feature a number of locally-made cherry products to sample and purchase from Door County's 2,500 acres of Montmorency cherry orchards.
Another must-see culinary experience is the Door County Fish Boil. Served by a number of restaurants, this popular meal features locally caught Lake Michigan whitefish and potatoes cooked outdoors in a large kettle of salted water over a roaring wood fire. As the meal is nearing readiness, kerosene is tossed into the fire beneath the pot, catalyzing the flames into a picturesque "boil over" finale. The meal is traditionally finished off with a slice of Door County's iconic tart cherry pie, made with locally grown cherries. Other visitor opportunities for the culinary traveler include wine sampling at eight different wineries along the Door County Wine Trail; cooking classes; sampling freshly caught smoked fish, locally-made cheese and other produce.
The autumnal appeal of Door County isn't just limited to foodies, however; both art lovers and outdoor enthusiasts are drawn to the peninsula in September and October. The county not only boasts more than 100 art galleries and studios, but live music performances and award-winning professional theater productions. Hikers, bikers and photographers are drawn to the region's five state parks, 11 lighthouses and other natural and maritime attractions – all of which are framed by brilliant fall colors. Door County Trolley tours allow visitors to relax and experience the exquisite colors and scenic vistas on a 75 minute tour of the county. Other fall highlights include:

Harvest Festival, Sturgeon Bay (September 17)
Autumnfest Classic Car Show & Fireworks, Baileys Harbor (September 24-25)
Fall Fun Fest & Cider Pressing Party, Washington Island (October 8-9)
Pumpkin Patch Festival, Egg Harbor (October 8-9)
Sister Bay Fall Festival (October 14-16)
Door County Fall 50 Ultra-Marathon, Gills Rock to Sturgeon Bay (October 22)
The Door County Visitor Bureau has compiled a list of additional fall activities for visitors on its website along with weekly fall color updates: http://www.doorcounty.com/autumn. More information on seasonal lodging package specials can be found here: http://www.doorcounty.com/so-delicious-so-door-county-packages.
**Note to Media: High-resolution photography and broadcast quality B-roll are available in Door County's media library through the embedded hyperlinks.
About Door County:
Door County is located in the northeast corner of Wisconsin. Surrounded by Lake Michigan, it is one of the top leisure travel destinations in America. Door County features 300 miles of shoreline, 34 named islands, 11 lighthouses and 5 state parks. It is known for its natural beauty, artistic offerings, outdoor recreation and local cuisine and offers scenic seaside experiences in the heart of the Midwest. Travel information and travel planning assistance (including information on available packages), can be found at DoorCounty.com or by calling 1-800-527-3529.