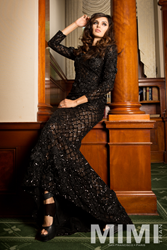 New York, NY (PRWEB) September 12, 2016
MIMI TRAN will be showing at the Invitation Only Art Hearts Fashion event at the Angel Orensanz Foundation 172 Norfolk Street, New York this Wednesday. The highlight of the event is the unveiling of Mimi's latest collection of exquisite evening dresses, ready-to-wear pieces, and culminating with a breathtaking bridal gown.
This season constitutes the emergence out of the chrysalis of Mimi's timelessly elegant designs to deliver an unexpected burst of vibrant colors. "This is truly the next step in the evolution of my designs," says Mimi. "I was inspired by my wonderful and beautiful daughter who seems to be growing so fast, taking on new experiences and showing me the transformative power of embracing life at its fullest."
The collection will feature floor length dresses of fine fabrications, sensuously cut silhouettes in a kaleidoscope of turquoise, red, blush, white, and new pieces in her signature black and gold tones, all detailed with hand embroidered lace, beads, shimmering Swarovski crystals and leathers.
Kindly RSVP to kristina (at) mannfolkpr (dot) com.
ABOUT MIMI TRAN
Born in Vietnam, Mimi Tran relocated to Paris at the age of seven where she eventually attended boarding school and was recognized as a gifted child in free style art. At 14, her family moved to the United States where she later graduated from college with a bachelor's degree in electrical engineering and began her career at Cisco. She earned an MBA in International Business Management from Santa Clara University, but her artistic side kept pulling her toward a means of creative expression. That calling consequently led her to found her own line in 2013 with form-fitting cocktail dresses that sculpted the body and accentuated feminine curves before she finally embraced the red carpet-ready glamour of evening gowns. Today she is based in San Francisco but is sold worldwide in specialty boutiques and stores. The showing of her "Colors of Life" Collection is her fourth and highly anticipated participation at New York Fashion Week and is of particular significance as she continues to explore the limitless possibilities of the Mimi Tran brand.