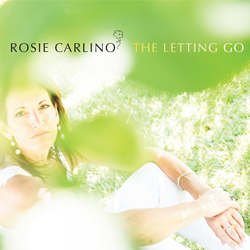 I dedicate this album to the continuing journey, embracing life's wonderful possibilities along the way.
(PRWEB) September 13, 2016
Rosie Carlino is a very unique talent, one who lifts the shroud of a heart and melodically brings across the song in her heart for all to experience. "The Letting Go" is a compilation of tunes that express her deepest joy to her most sorrowful moments. Tunes like "What Do I Do With Me?", "All Dressed Up", "My Favorite Year" and "On My Way To You" to name a few. It's an epitome of revelations that causes the listener to relate on so many levels of their deepest hearts understanding. Rosie's raw vocal delivery grabs and holds the listener in this collection of songs that are a mix of the Great American Songbook, Country and Contemporary Pop.
Carlino is no stranger to her passionate artistic expressions. Not only does she share her musical gifts with her fans, she inspires them as well with her original paintings. "I have had the privilege of learning and discovering so many other creative and inspiring things that have given me much more awareness of who I am and all of which I am capable. I can't be more grateful for the twists and turns of my journey", says Rosie. This project was not only meant for Rosie's heart but for those that have loved and lost and on the road to recapturing their true essence and passion for life. Always seeking to go higher is a priority in her life as she is always on the look-out for ways to expand her horizons on every side.
"Rosie Carlino opens her heart in a way we all wish we could do, guttural glimpses of a life well lived, artistically, emotionally and spiritually, a musical offering that can change a heart" says Jaijai Jackson of The Jazz Network Worldwide.
"Rosie Carlino sings from her heart on this intimate recording, choosing beautiful standards from the American Songbook that musically express her personal journey through some of life's most poignant transitions." ~ Kathy Ridl, Classical and jazz violist/ bassist and graphic designer
"Rosie Carlino is a jazz singer who performs from her heart. Impeccable phrasings, not hurried, unwavering vocals, a gorgeous voice and a beautiful spirit." ~ Glenn Barratt, 2x Grammy Award-winning engineer-producer
It's Rosie's ambitious nature that causes her to define the type of stages she feels the most comfortable sharing her musical gifts. Currently Carlino is seeking to join forces with jazz societies around the globe that not only keep jazz alive but reinforce the ambiance of the variables of jazz settings, from concerts to intimate gatherings.
Be sure to catch Rosie's feature this week on The Jazz Network Worldwide thejazznetworkworldwide.com as well as learning more about Rosie at http://www.rosiecarlino.com. "The Letting Go" is available for purchase on Itunes.com, CDBaby.com and amazon.com and all major digital outlets.