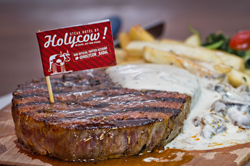 This year, Holycow gave a Royal Enfield GT 500xx motorcycle to one lucky customer.
Jakarta (PRWEB) September 21, 2016
The Steak Hotel by Holycow opened its doors in Jakarta, Republic of Indonesia, back in 2010. This year, this popular eatery celebrated its sixth anniversary. To honour the occasion, this impressive steak house Jakarta, which is renowned for offering delectable and ultra-tender Wagyu steaks to patrons (for very reasonable rates!) is offering a fun special promotion to customers. These special promotions happen yearly and they are a great way to mark the passage of time, as well as the continued success of the restaurant.
This September, Holycow gave a Royal Enfield GT 500xx motorcycle to one lucky customer, who collected the most Holycow Steak stamps. The winner this year is M. Khairnadif, who earned a whopping 896 stamps! The motorcycle giveaway was promoted online under the hashtag, #HolycowXRoyalEnfield.
The previous year, a customer with 173 stamps received a free vacation to Japan. Each customer gets a stamp whenever he or she buys a steak!
Restaurant History and Information
The Steak Hotel by Holycow evolved from a street food operation. Its founder, @WyndaMardio, isn't classically trained as a chef. However, her natural ability to cook up exceptional cuts of beef brought her acclaim and respect, as well as plenty of hungry customers! The restaurant may be found on Radio Dalam Raya Street in Jakarta. Fourteen other Holycow steak houses are also open all over the Republic of Indonesia.
Discover Another Fun Anniversary Promotion
While the motorcycle has already been awarded, there is another way to celebrate the sixth anniversary of this steak house. The other promotion is a weekly contest which is run via the eatery's official Instagram account. To participate, take a picture of your preferred steak and post it to Instagram. During your post, you must mention @holycow_radal - Whoever posts the best picture will win a free Buddy's Special Steak. While posting a pic of your favourite steak, also insert the hashtag, #weeklycompetition.
If you live in Jakarta or you're planning a visit, be sure to participate in the weekly steak giveaway. It will be such a great way to have fun online and to boost your chances of winning a tender and succulent Buddy's Steak. You'll love the atmosphere and great service that you find at Holycow and you may just become a regular at this popular restaurant, which is definitely one of Jakarta's best! Learn more about Steak Hotel by Holycow by visiting https://holycowsteak.com.